Add Soul Refreshment to Your Inbox!
Add Soul Refreshment to Your Inbox!
Janice McWilliams, author of Restore My Soul:  Reimagining Self-Care for a Sustainable Life, offers a variety of practices you can incorporate into your life.
When you opt-in to this list, we'll email practices that you can read in less than five minutes that will tend to your health and wellbeing on a daily, moment-by-moment basis.
We hope you will join us in our quest to take care of our mind, body, and soul. (You can expect around 10 email practices over the course of several months.)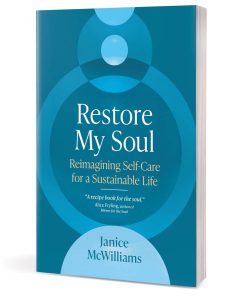 Restore My Soul helps you consider this question: Could self-care be more than an occasional "me" day and instead an ongoing tending of my thoughts and feelings? Therapist and spiritual director Janice McWilliams shares practices that have helped her clients learn how to live a fulfilling life, even when times are tough. In Restore My Soul, you'll discover how these same practices can restore your soul, too, so that, as you practice sustainable self-care on a daily, moment-by-moment basis, you can experience a balanced, flourishing life.
Janice McWilliams (MDiv, LCPC) is a psychotherapist in private practice, a certified spiritual director, and a writer. She has nourished her lifelong curiosity about human nature by serving in ministry and organizational leadership and training. Janice's love of the depths and intrigue of the human experience is matched by her desire to find her place in God's work of restoring and revitalizing souls everywhere. Her blog promotes spiritual, relational, and psychological transformation. Find out more at janicemcwilliams.com.