Journey to Free, Week Three: Childhood Is Where the Battle of Shame Starts
Journey to Free, Week Three: Childhood Is Where the Battle of Shame Starts
Shame is transmitted primarily through shame-based family systems. If our child hearts receive the parental love we're created for, we flourish—and begin to be drawn to an even Greater Love that will fill us "with all the fullness of God" (Ephesians 3:19, nrsv). But if the love we desperately need is absent, love's opposite—shame—immediately occupies love's place in our spirit.
Shame starts early.
Even as infants, something inside us can begin to shrivel and die. In fact, neurobiologists tell us that a baby can feel the impact of love—or unlove—as early as the third trimester in the womb. If parents struggle to know the love of God, all they have left to give is shame, in its various deadly forms. We cannot give away what we haven't received. Psychologist Robert Karen says it plainly: "[Shame] is frequently instilled at a delicate age, as the result of the internalization of a contemptuous voice, usually parental."i
Performance-based parenting, lack of affection, emotional distance—all can download shame into our children. But most often, children absorb shame's "contemptuous voice" from their own unhealed shame embedded in the way we discipline.
Like the Sunday I preached on the topic of shame
One Sunday when my girls were little, I preached a sermon on shame and asked Andrea and Leigh Anne to role-play with me. In the first service, I played the loud, finger-pointing, angry, shaming dad, and Andrea was stellar as the victimized daughter. It was great fun, our community loved it—and the spiritual point was driven home. The second service was a different story. About five minutes into our role-play, as I stood tall over five-year-old Leigh Anne, glaring angrily, raising my voice in dismissive shame . . . my precious little girl looked up at me, eyes brimming with tears, and said, "Daddy, I don't want to do this anymore." I immediately dropped to my knees, took her in my arms, and choking back repentant sobs whispered, "It's okay, baby. I'm so sorry. We're done." Our Sunday-morning "drama" had become, in Leigh Anne's mind, a reenactment, triggering memories of my real-life, shame-based parenting.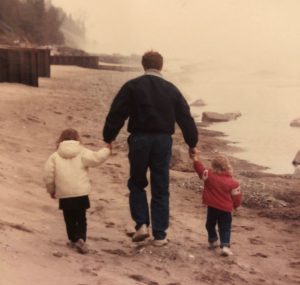 Thankfully, because of the healing work of Jesus Christ in my life, my girls received not only shame but a great deal of the Father's love over the course of their childhood. On Father's Day three years ago, my grown-up Caroline wrote, "When I think of you, Dad, I think of love. You've taught me so much over the years . . . but what stands out most to me is how you've been a consistent and pure example of love—loving oneself, loving others, and receiving the love of Jesus."
Wait . . . what?
When I first read her words, I thought, Sweetie, thanks, but you must be mistaken. Don't you remember when you were three and I shamed you over the spilled juice box? Or when you were ten and I wouldn't let you get off the couch until you prayed out loud in our family prayer time? Or when you were sixteen and I shouted you down at the kitchen table for being so stubborn? Because that's what I remember.
The healing power of God's love
It's the nature of shame to focus on failure as proof that "I'm a loser." But once more, Peter's words ring powerfully true: "Love will cover a multitude of sins" (1 Peter 4:8). As I continued to battle my own shame through the love of Christ, his redeeming love began to slowly transform my parenting and even heal past shame damage in Caroline—so that what she remembers most today is how much I loved her.
Your father loves you
So, if you're a parent, be encouraged. If the love of Jesus Christ can do this in me—one of the most shame-based dads I've ever met—he can do this in and through you. Your parenting journey isn't about perfection but gut-level honesty about where you are with shame right now. No matter where you find yourself, you can respond to the Father's voice as he says, "Son, daughter—you don't need to live this way anymore. I love you. Let me begin to heal you and set you free."
Do you struggle with shame? If you're human, then probably yes, you do. What would it be like for you to take a courageous step toward freedom right now—getting honest about your past and contemplating signs of residual shame lurking in your spirit today? This download contains a list of shame's markers. Each comes not from a textbook but from my own journey of battling shame. Which of these reflect an area where shame has wounded—and locked down—your spirit?
Free download: Markers of Shame
Next week is our final week on the Journey to Free! We'll talk about our best weapon against shame.
The folks at NavPress and I would love to hear from you and encourage one another. Facebook @jkevinlovecarla and @navpresspublishing // #bookfree #chooseandchooseagain
Post a photo with #journeytofree on Facebook or Instagram. The first 25 get a free download of Kevin's audiobook Free.
NAVPRESS and the NavPress logo are registered trademarks of NavPress, The Navigators, Colorado Springs, CO.
[1] Robert Karen, "Shame," Atlantic Monthly (February 1992): 40–70, http://www.empoweringpeople.net/shame/shame.html.