Journey to Vulnerability: Week 3
Journey to Vulnerability: Week 3
You can review previous journey messages here.
The Practice of Praying Common Prayers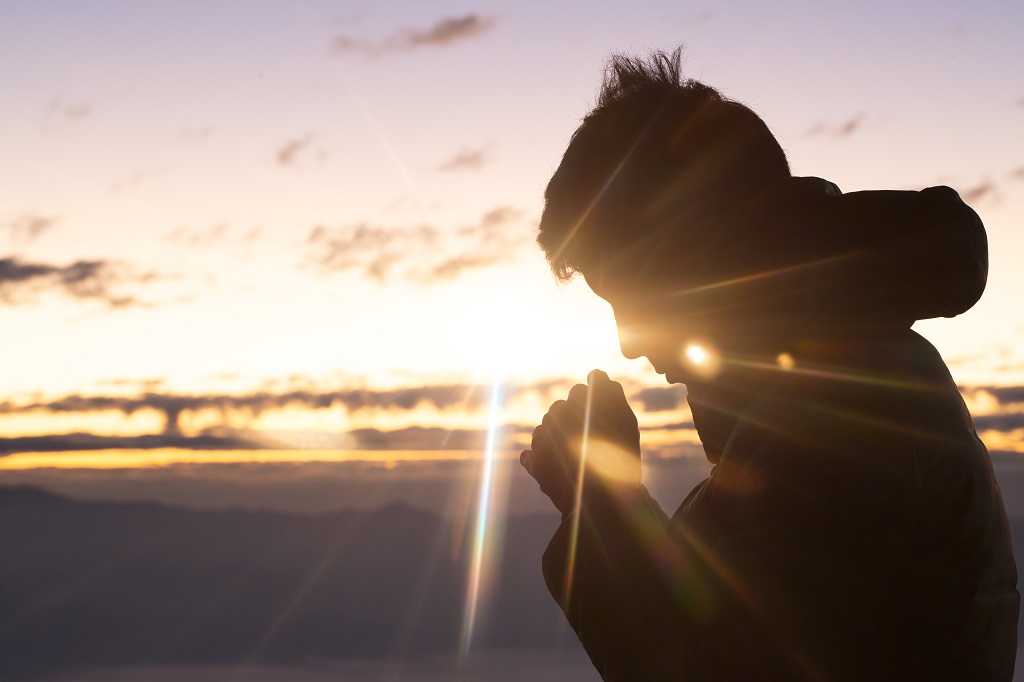 As a kid, I attended a school attached to one of the parishes Cardinal Bernardin presided over, and from time to time, he conducted mass there. His red-and-white robes and gentle face intrigued me. And although I knew little about him, there was something about the way he carried himself that I admired.
Prayer as a Lifeline
Cardinal Bernardin, of course, would have been the spiritual authority for many people, someone they would turn to for prayer, healing, confession, spiritual advice, and last rites. From all accounts, he was wise, discerning, and compassionate. He had a desire to see wrongs righted, and he cared for those who suffered. But despite this life of deep faith and devotion to God and others, Cardinal Bernardin lost his ability to pray toward the end of his life. He was dying of cancer, and his pain was so great that he could not concentrate long enough to pray. He wanted to and he tried, but bodily suffering overtook him. And so, when people came to visit him and asked what they could do for him, he asked that they would pray on his behalf.[1] He was asking them to bring him before the Lord. He needed someone else's words because he could no longer muster his own. Imagine the vulnerability and humility it took for this man, who was so respected and honored for his prayer life, to admit that he needed someone else to carry him before Jesus.
Sickness, sadness, shame, or sin can shut us down and disable us from thinking clearly. And God always hears us; he knows our hearts and our wordless cries when we do not have words:
"The Holy Spirit helps us in our weakness. For example, we don't know what God wants us to pray for. But the Holy Spirit prays for us with groanings that cannot be expressed in words. And the Father who knows all hearts knows what the Spirit is saying, for the Spirit pleads for us believers in harmony with God's own will" (Romans 8:26-27).
In addition to this promise, we are offered another gift: When we are in deep pain or darkness, someone else's prayers or even faith can be a means of life support. This can look like a friend praying for us or our ability to borrow historical words and lean on historical faith in the moments or seasons in which we simply cannot draw on our own.
When we are struggling to find words or even groans that bring ourselves before God in prayer, is it possible to rely on someone else's words?
For many of us, spontaneous prayer is all we've really ever known.
In fact, prayer is perhaps one of the most individualized, personal exercises we practice. We have emphasized the importance of going away by ourselves and praying to the Father, and we have, at least in the evangelical tradition, steered clear of any written, shared prayers for fear that such prayers reflect vain repetition or an impersonal, nominal faith.[2] We pray when we feel the need to pray, and the words we use are ours alone, a reflection of how we are feeling and what we need for ourselves or those we love. This kind of prayer is an invaluable practice to have and is critical to growing in intimacy with God.
Yet there are times we turn too far inward.
Our prayers become self-centered and rote in their own way. We may lose focus and find ourselves thinking of something that happened at work or something we saw on social media. Even when we pray in church, we are often instructed or invited to close our eyes and find our own internal space separate from the bodies standing around us. We are praying, as Scot McKnight would say, in the church but not in this case with the church.[3] Individual prayers are particularly difficult when we are struggling with our brokenness, shame, anxiety, or fear—times when we tend to become isolated and self-focused, leading us to engage in our destructive coping practices, which, of course, lead to further isolation.
Praying the Psalms, Scripture, Ancient Prayers, and More
Common prayers are historical prayers of the church (for example, the Psalms, the Lord's Prayer, or the prayers found in the Book of Common Prayer) as well as prayers that have been written by others which we can adapt as our own. As we can see reflected in the Psalms, the Jewish people had fixed times each day (morning, noon, and night) when they turned their attention to God to praise and pray (Psalm 55:17; 119:164; see also Daniel 6:10-11). During these set times, the Jewish people prayed the Psalms first and foremost. They chanted them together, they prayed them alone, and they memorized these prayers so that they became part of a common language. We see this as we review the many references and allusions Jesus made to the Psalms without having to cite his sources to those listening. The Jewish people also recited the Shema in the morning and in the evening.[4]
The Shema (a Hebrew word meaning "listen" or "hear"), which comes from the opening lines of the following verses, was first given to the Israelites by Moses:
"Listen, O Israel! The Lord is our God, the Lord alone. And you must love the Lord your God with all your heart, all your soul, and all your strength. And you must commit yourselves wholeheartedly to these commands that I am giving you today. Repeat them again and again to your children. Talk about them when you are at home and when you are on the road, when you are going to bed and when you are getting up" (Deuteronomy 6:4-9).
Prayer in the Early Church
In the days of the early church, fixed-hour common prayers carried over into the lives of Christians. In fact, several of the events described in the book of Acts happened during these fixed-hour prayers. Peter and John healed a man on their way to the Temple for three-o'-clock prayer (Acts 3:1-8). When God gave Peter the vision on the rooftop that sparked Peter's realization that the gospel was for Gentiles too, Peter had gone up to pray for noon prayer (Acts 10:9-16).[5]
Despite common prayer's presence in the church since the inception of Christianity and its roots in the Judaism that Jesus practiced, the concept of common prayer may feel foreign to those of us from some Christian denominations.[6] But if we choose to unearth the richness of the practice, we will discover an invaluable way in which God can meet and transform us when we are ashamed, anxious, broken, and afraid.
Practicing Common Prayer
At some point or another in our lives, we are going to relate to the ailing Cardinal Bernardin—we simply will not be able to bring ourselves before God. We will be too overwhelmed by sin or shame, pain or anxiety, fear or doubt. Paul says, "Be patient in trouble, and keep on praying" (Romans 12:12). But how can we do this when we are distressed and just can't find any words or desire to pray? We will need the humility of Cardinal Bernardin to ask that the faith of others carry us before God.
Common prayers allow us that opportunity as we humble ourselves and place ourselves under and within the community of God. We borrow the courage of those who have gone before us.
Reading aloud matters.
We can enter into community even when we are alone reading a common prayer, because common prayers are meant to be said (read) aloud.[7] When we say prayers internally, we are easily distracted. So, as insignificant as it may seem initially, using our tongues, mouths, and voices—and especially when we can do so in community—is another way of embodying our faith.
How do you start praying common prayers?
If you're feeling uncertain about where to start with common prayer, the Psalms are a concrete and powerful entry point into this practice. Consider Psalm 51, written by the great King David after his infamous adultery with Bathsheba and murder of Uriah. When the prophet Nathan pointed out David's sin, David had the faith to bring himself before God in prayer (2 Samuel 12); Psalm 51 is his heart-cry to God, seeking forgiveness and restoration. How can we use these words as common prayer? When we have sinned, whether in mundane or spectacular ways, shame may prevent us from believing that God loves us and longs for us to pour our hearts out to him—and that he'll forgive us. But with Psalm 51 at our disposal, we can borrow David's faith and pray on our own behalf:
"Have mercy on me, O God, because of your unfailing love. Because of your great compassion, blot out the stain of my sins. Wash me clean from my guilt. Purify me from my sin" (Psalm 51:1-2).
What a gift these words are. When we are in the midst of brokenness or shame, we can speak out this prayer that David, the one God called a man after his own heart (Acts 13:22), crafted.
When we are caught up in our own anxiety or shame, we can spiral and feel alone. Sometimes when I'm trying to go to sleep for the night, a thought will invade my mind and spark worry. I'm not always fully aware of precisely when the spiraling happens, but suddenly I am dreaming up worst-case scenarios and believing them to be perfectly reasonable potential outcomes. In these moments, I feel most alone.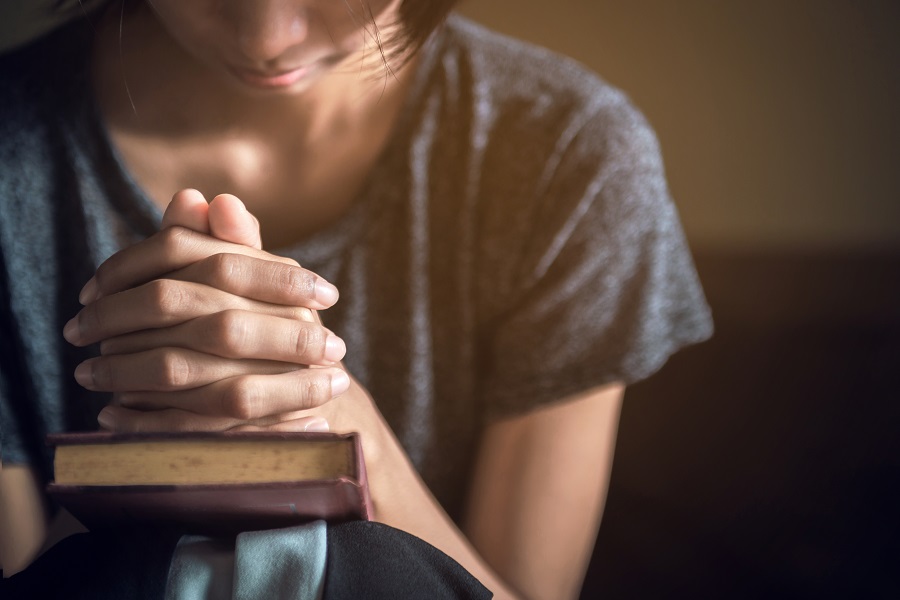 But common prayers remind us that we are not alone—that we are connected not only to a God who loves us but also to the historical body of believers and the community of faith around the world today.
Consider this reality: When we pray the Lord's prayer, we are praying a prayer that Jesus himself taught, that his disciples prayed, and that believers over a span of two thousand years have prayed. Isn't that incredible? When I find myself in a nighttime anxiety spiral, I say the Lord's prayer aloud (although not loud enough to wake my husband). At first, it allows me to jolt my mind out of the spiral—just as reciting multiplication tables might. As I continue, though, I am brought up above and beyond the spiral. I am reminded of God's reign and goodness (Father in heaven . . . your kingdom come), and then—because the prayer uses plural language (us, our, we)—I realize I am joining in with millions of other Christians over time and place who have prayed this prayer in situations far worse than mine. I find a lot of comfort in this.
In common prayer, we can link arms and hearts with Christians all over the world and throughout time and remember who we are in Christ.
We find "not just a poetic genius behind the words but a community in, with, and under the words."[8] In the nights and days and moments when we feel alone, we are joined with an eternal community, each of whom walked their own journey of brokenness, shame, anxiety, and fear.
Common prayer leads me to consider others and think beyond myself, enabling (some might even say pushing) me to pray in ways I would not otherwise pray.
There is an entire section in the Book of Common Prayer devoted to praying for the people and beauty around us but outside of us. For example,
"For the peace of the world, for the welfare of the Holy Church of God, and for the unity of all peoples, let us pray to the Lord. Lord have mercy. . . .
"For our President, for the leaders of the nations, and for all in authority, let us pray to the Lord. Lord, have mercy. . . .
"For seasonable weather, and for an abundance of the fruits of the earth, let us pray to the Lord. Lord, have mercy. . . .
"For the good earth which God has given us, and for the wisdom and will to conserve it, let us pray to the Lord. Lord, have mercy. . . .
"For the aged and infirm, for the widowed and orphans, and for the sick and the suffering, let us pray to the Lord. Lord, have mercy. . . .
"For the poor and the oppressed, for the unemployed and the destitute, for prisoners and captives, and for all who remember and care for them, let us pray to the Lord. Lord, have mercy."[9]
Praying these prayers reminds us of those who are suffering more than we are and whom we can bring before the Lord. Bringing these words before God raises us out of our own muck and mire and helps us apply our faith to others. We become the friends who carried the paralyzed man.
Starting the practice of common prayer
As you enter into a practice of common prayer, think of your path forward as one of flexibility and intentionality. As Scot McKnight has said, "Prayer, like love, seeks intimacy through variety in constancy."[10] Skipping around in a prayer book without any routine lacks constancy. But praying the same common prayers every day for a year (or even a month) can lack variety. When you allow yourself space for variety while also building in some constancy, this practice will become one that joins you with others in the body of Christ and dispels fear, calms anxiety, and quiets shame.
In pursuit of both flexibility and intentionality, I have incorporated into my routine morning and evening common prayers that greet and then release the day. I am fortified before bed by praying a psalm or a part of a psalm. If I am anxious or fearful, I pray the Lord's Prayer. If I am experiencing doubt, I recite the Nicene Creed (although it is a statement, I make it a prayer). My husband and I go through seasons in which we pray through "A Liturgy for a Husband and Wife: At Close of Day" from Douglas Kaine McKelvey's Every Moment Holy. It is beautiful, honest, uniting, and also sometimes hard because it asks that you make amends and ask forgiveness. Most days I also pray spontaneously whatever is on my heart, whether a long paragraph or an indistinct groan. I also change things up depending on the season, like you might with your clothes in your closet.
Pay attention to your soul and what it's really longing for.
This is the most important tip I can give you. This is different from what your body wants in order to avoid or cope or numb. In other words, we need to continue noticing our need and recognizing our coping practices. Where do you see unholy leakage, overreaction, defensiveness, or spiraling? Have any of your usual coping practices kicked in? Then, if you don't have the words or faith to bring yourself before Jesus, rely on the church. We are one body in Christ. We are created as interdependent parts—when we are limping along, there are those to hold us up, and when we are strong, there are those we can carry.
Let's keep the conversation going. Facebook @MomentsoftheSoul @navpresspublishing // #journeytovulnerability #holyvulnerability
[1] Jane E. Vennard, Praying with Body and Soul: A Way to Intimacy with God (Minneapolis: Augsburg Fortress, 1998), 46.
[2] See Scot McKnight, Praying with the Church: Following Jesus Daily, Hourly, Today (Brewster, MA; Paraclete Press, 2006), 3–4.
[3] Scot McKnight, Praying with the Church: Following Jesus Daily, Hourly, Today (Brewster, MA; Paraclete Press, 2006), 3.
[4] Scot McKnight, Praying with the Church: Following Jesus Daily, Hourly, Today (Brewster, MA; Paraclete Press, 2006), 45–46.
[5] Phyllis Tickle, The Divine Hours: Prayers for Autumn and Wintertime (New York: Doubleday, 2000), x.
[6] Bobby Gross, Living the Christian Year: Time to Inhabit the Story of God (Downers Grove, IL: IVP Books, 2009), 17.
[7] Scot McKnight, Praying with the Church: Following Jesus Daily, Hourly, Today (Brewster, MA; Paraclete Press, 2006), 18.
[8] Shane Claiborne, Common Prayer: A Liturgy for Ordinary Radicals (Grand Rapids, MI: Zondervan, 2010), 12.
[9] The Book of Common Prayer (New York: The Episcopal Church, 2007), 383–84. For easy access, see https://www.bcponline.org/.
[10] Scot McKnight, Praying with the Church: Following Jesus Daily, Hourly, Today (Brewster, MA; Paraclete Press, 2006), 161.