What Do Your Favorite Movies Reveal about God?
What Do Your Favorite Movies Reveal about God?
Join world-renowned apologist Frank Turek and his son Zach Turek as they highlight key conversations from their book, Hollywood Heroes: How Your Favorite Movies Reveal God.
We'll deliver four, fascinating emails to you over the course of a few weeks when you opt-in to this series.


Want to start reading now? Here is the preface and first chapter to Hollywood Heroes. As a bonus, you also receive a comprehensive (though not exhaustive) list of 51 movies from series that include Captain America, Iron Man, Harry Potter, and more so you can check the movies you've seen and create a watch list based on the movies discussed in Hollywood Heroes!
Finding God on the Movie Screen
Captain America. Iron Man. Wonder Woman. Batman. Darth Vader. Frodo. Harry Potter. Hollywood Heroes highlights a collection of characters from the world's most popular movies to show how their fictional stories reveal factual truths about God. For movie and comic fans of any age, the modern-day parables uncovered in these Hollywood blockbusters will change the way you watch movies and transform your understanding of our Ultimate Hero—Jesus Christ.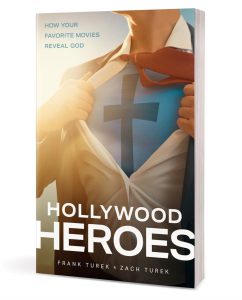 Follow world-renowned apologist and author Frank Turek!