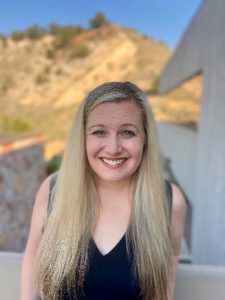 COLORADO SPRINGS, Colo. (September 9, 2022) – NavPress announced today that Caitlyn Carlson has been promoted to the position of senior editor.
Carlson began her publishing career at David C. Cook, with an emphasis on copy editing and project management. She has been the editor of record for a wide range of authors, including Brian Hardin (founder, Daily Audio Bible), Cynthia Heald (author, The Faithful Way), Leslie Leyland Fields (author, Your Story Matters), and Aubrey Sampson (author, Known).
"Caitlyn is the best kind of editor," writes Catherine McNiel, who has worked with Carlson on her three books with NavPress. "Gracious and wise, deeply engaged with both the project and the author in such a way that she grasps what we meant to say and brings that to the forefront." Recent acquisitions by Carlson have included Marty Solomon, Ashlee Eiland, and Kathy Khang.
"Caitlyn was the first friend I made in Colorado, and my best guide into the culture of NavPress when I arrived," said David Zimmerman, publisher at NavPress. "Over the past eight years, through her acquisitions and careful editing, she's set an expectation for the quality and character of the books we put out."
Commenting on Carlson's specific contributions, David Zimmerman shared, "In addition to her work on our books line, Caitlyn has been the major driver of a revitalization of our ministry resources." Zimmerman continued, "With innovative new Bible study series from Kat Armstrong and Teresa Swanstrom Anderson, a significant expansion of our bestselling LifeChange Bible study series, and her ongoing work on new books by compelling authors, she's helping to reassert our leadership role in publishing must-read resources for discipleship and disciplemaking."