It was an amazing morning in September.
Kevin Butcher, author of Choose and Choose Again arrived early for sound check in the chapel. He was here to speak with Tyndale employees, and his topic was what makes his hear burst–the expansive love of God. The same love that pulled his car back on track that dreary evening when he wrestled with suicide. The massive embrace he has seen wrap around the people in his inner-city Detroit church. He spoke with conviction, truth, and most of all, love.
There was a book signing after chapel.
At the book signing, Kevin spent time greeting each person, looking into their eyes, imagining their hopes and fears, and signing a book. I was charged with keeping the day on schedule, and sometimes wished he would have moved it along more quickly. (The book signing took over two hours!) But that day, I sensed a special gift of the Holy Spirit on this man, and who was I to rush the Spirit?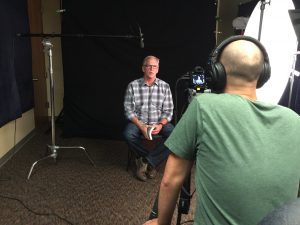 The next stop was a video shoot. We chose a black background, and queued Kevin to speak on various aspects of God's love and what it means to choose God's love each day.
And then it happened.
Kevin stopped between shots and said, "Can we just talk candidly for a minute?" From the depth of his heart poured a burden dipped with encouragement–an admonishment that washed over us as only God's Spirit can do. As a seasoned videographer, the record button was silently tapped near the beginning of Kevin's oration. And here is what he said.
We dressed up the video a bit to fit his message and mood. But remember as you watch it, these are the impromptu words that poured out of this author's heart. May Kevin Butcher's message of God's love spur you on today. As you receive God's love, may it leak out of you onto a hurting world that needs to choose God's love–and choose it afresh each day.

Ready to dig deeper? Choose and Choose Again is a book that you will want to read and read again–or read once and give it away. It's tha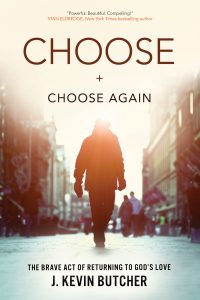 t good.