I'm constantly amazed at the reasons people give for not having important conversations. They hold back for fear they'll be misunderstood or because they think they don't know enough to share about Jesus.
This is pride in disguise.
If you do this, you're doing one of three things:
1. You're giving yourself too much credit for convincing others about Jesus.
2. You're not thinking enough of God.
3. You are not trusting that God will use you just as you are, with whatever words come from your mouth.
The best way to get over pride and insecurity is to allow ourselves to be moved by love and compassion, just as Jesus was. To focus on the other person. To speak out of a heart that genuinely cares. And then trust God to take care of the rest.
God is big–and we're his "surprise factor"!
I've spent much of the last twelve years telling my life telling stories in written or spoken form. Not because they're so great or because I'm so cool, but because they show how big God is. Those who know me—I mean really know me—are amazed that God could do what he's done through me. And I'm amazed that God could do what he's done through me. I'm serious. I'm a small-town country boy from Nebraska. Graduated high school tenth in a class of twenty. I went to a small college and got a simple BA in history. The most important man I knew was my dad, and he was the pastor of a church in a small town. I never knew a mayor or a congressman or a rich person. I never could have imagined doing what I do now. I just wanted to hunt and fish and go camping on the weekends.
Yet I've discovered that God is big. And that he likes using people like me. And you. We're his surprise factor. We're the small hidden thing that his Kingdom emerges from. The little stone that becomes a pearl in his hand. The yeast that spreads to the whole lump of dough. Small and insignificant, until we're touched by God's Spirit. Then watch out.

What do we do? What's our part? We show up. We're full of courage not because we are strong on our own but because we're loved people. Loved by God, which in turn gives us the courage to love others. And that's the very thing that drives out fear, pride, and insecurity.
God does everything. We show up.
What does God do? Everything else. And you can drop the "else" part. Even the things we do are by his power. He literally gives us breath. So we open our hearts, minds, and mouths to love and serve those around us, in his name, with his power. That's it.
When you have a conversation, a good one, a tough one, one where you laid it all out, and then you drive home feeling stupid and insecure because you didn't do this or that right, let it go. It's God's deal. Don't be so intense. Chill a bit. Relax. God's got you and your conversations and the other person and their future.
Don't take yourself too seriously. Don't seek to be strong in yourself but rather trust strongly in God. Take a second look at the great "spiritual warfare" passage of Ephesians 6. You'd expect a lot of macho stuff. But not so. The section tells us that "our struggle is not against flesh and blood," and, in fact, it starts with the preface "Be strong in the Lord and in the strength of his might."
Stand.
What the passage does tell us to do, three times, is to stand. That's it. Stand. Get up. Wake up. Get out of bed. Whew, that's a relief. All that fighting and stuff could make a guy tired, but that's not our job. Ours is simply to stand.
But standing isn't always that easy. We get knocked off our feet every day by something in or around us. Life is hard. Getting back up and wading into the battle (the one God is fighting) isn't always a cakewalk. It's hard stuff, staying upright.
So don't take on any extra pressure.
The weight of the world belongs with God, not you.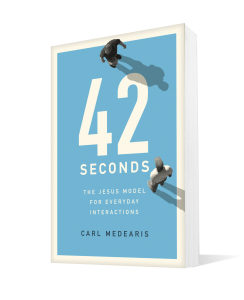 You've been reading with Carl Medearis from 
42 Seconds: The Jesus Method for Everyday Interactions. 
Why 
42 Seconds
? That's the average length of Jesus' recorded conversations.  Jesus changed the world, person by person, 42 seconds at a time, and so can we. To make the most of the 42 seconds to come in your life, dive into this easy, encouraging read, 
42 Seconds: The Jesus Model for Everyday Interactions
. Better yet, see if your church will sign on to read as a congregation. It easily divides into four weeks of learning and growing together. Available at a
special discount for a limited time
(through May 16, 2018).