There are many occasions when a thoughtful blessing can be a special gift for someone to treasure. Consider giving a blessing to your child at a pivotal age, a friend with a milestone birthday, an engaged couple, a toast at a marriage, a graduate, a colleague at his or her retirement party, a family who is moving, a person transitioning to ministry or a new job—there are countless times when your words can flow with the love of God in Christ and bring lasting encouragement.
How do you craft a blessing that is perfectly suited for your child or loved one? Here are some questions Tina Boesch, author of Given: The Forgotten Meaning and Practice of Blessing, ponders when she begins the process.
Set aside time to pray specifically over the person and the words you choose to speak
Jot down memories—include specifics on how you see a glimpse of that person experiencing life, wonder, and his/her heart's desire in a unique way.
What Scripture has informed your prayers for this person?
What challenges has this person faced—and what challenges do you think may lie ahead?
What truth do you most want to affirm?
A blessing created by you for a loved one is unique. While a blessing can take a variety of directions, here are two suggestions in the book, Given:
Open with a vivid memory in story form so that a beautiful moment can be relived again and shared together.
Introduce specific blessings first with what you see in him or her, and what you expect the future to hold.
Below is part of a blessing that Tina Boesch wrote for her daughter's twelfth birthday. You will first see her words in black and under it is an explanation about the significance of the words she chose to bless her daughter. You can find the entire blessing in chapter three of Given.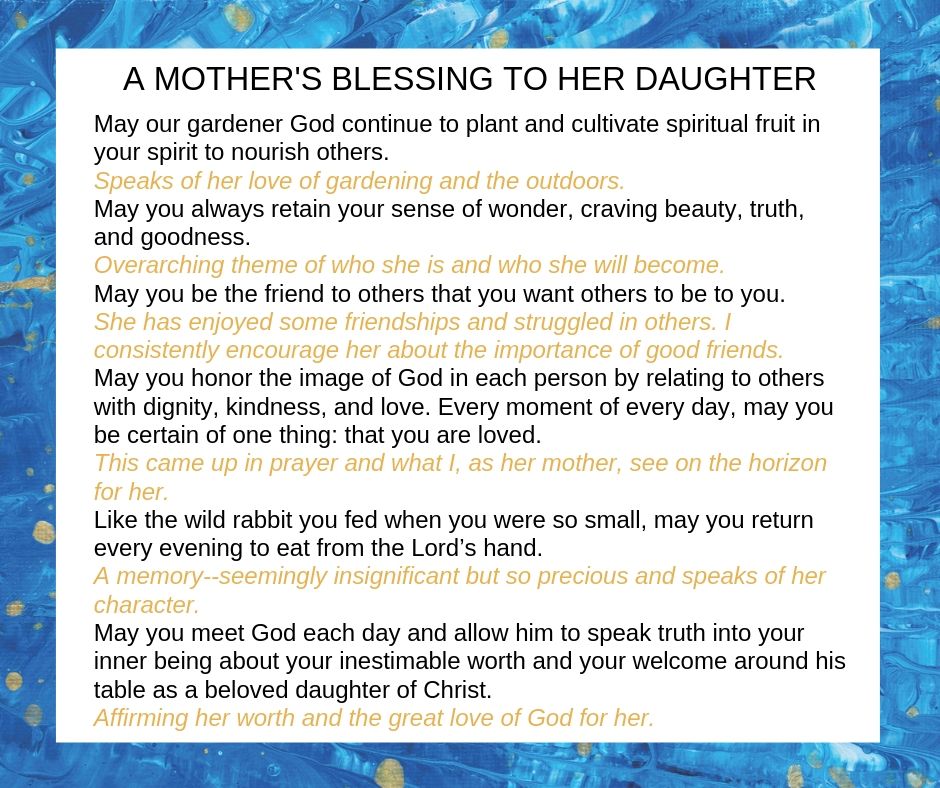 If you are inspired to learn more about the forgotten meaning and practice of blessing, you can read chapter one of Given now, or buy the book here (or wherever books are sold).