You have charged us
to keep your commandments carefully.
Oh, that my actions would consistently
reflect your decrees!
Psalm 119:4-5
In front of a gas station in Johannesburg, South Africa, sits a chalkboard that offers an insightful daily quote to passersby. Some people even drive out of their way to read the new selection for the day! The truth of one of the quotations made me smile and also made me think: "Don't do something permanently stupid because you are temporarily upset."[i] Perhaps a more biblical spin on this quotation might read, "Don't do something permanently foolish because you are temporarily tempted."
Probably no one could testify to the accuracy of that statement more than the renowned prophet Moses. Called by God to deliver the Israelites from slavery in Egypt, Moses had the additional responsibility of leading the Israelites to Canaan, the Promised Land. Twice during this journey Moses was called to provide water for the people. Early in the Exodus, God instructed Moses to "strike" the rock in Horeb to bring forth water. He obeyed, and there was water for everyone. Then, after a forty-year penalty for refusing to enter the Promised Land, the congregation was finally ready to cross the Jordan to occupy Canaan, but again there was no water. The congregation gathered to complain and reproach Moses and Aaron for not providing for their needs, especially water.
To supply water this time, God commanded Moses to "speak" to the rock that stood before the people. But a temporarily irritated and angry Moses disregarded God's directive and instead of speaking to the rock, he "struck" the rock. Water gushed forth, but God was not pleased. The Scriptures tell us of God's displeasure: "But the Lord said to Moses and Aaron, 'Because you did not trust me enough to demonstrate my holiness to the people of Israel, you will not lead them into the land I am giving them!'" (Numbers 20:12).
Moses was still loved by God, and he did get to see Canaan, but he suffered an unnecessary consequence: He was not able to fulfill his lifelong mission of delivering the Israelites into the Promised Land. Moses did something permanently foolish because he was temporarily tempted.
Exploring the Word
Unfaithfulness can have its consequences. In moments of temptation and self-serving, we have the potential of choosing foolishness, but John Owen reminds us that our safety is in constant awareness that we are in a battle. Study these verses for encouragement to remain steadfast.
Psalm 119:80
2 Thessalonians 1:11-12
Learning to Live Faithfully
Moses was a man who loved, served, and walked intimately with God. He was a great man of faith, beloved by God and known as God's friend to the extent that when he died, the Lord buried him. As Herbert Lockyer noted, Moses was the only man in the Bible to have God as his undertaker.[ii]
Yet Moses was just as human as we are and was provoked to unrighteous anger that dishonored God. Certainly God forgave him, but Moses paid a price for a moment of disobedience. American Bible scholar Charles Ryrie observed, "Here is a warning to us that forgiveness of sin does not always carry with it alleviation of the consequences of that sin."[iii]
We can be confident in God's love for us, but we must comprehend that part of his love is expressed though consequences for disobedience. Since this is true, why not choose to be faithful and forgo a consequence that God never intended for us to have? However, we should not choose to be faithful solely to avoid discipline. Our faithfulness must originate from grateful hearts for God's unfailing love and mercy toward us. He is a faithful God who is more than worthy of our faithfulness.
Paul Tripp wrote of God's faithfulness, "He is able and willing to meet you in your moments of need, even when that need is self-inflicted. . . . He will never use your weakness against you. He has no favorites and shows no partiality. . . . He is just as faithful to all of his promises on your very worst day as he is on your very best day. . . . He knows how weak and fickle your heart is, yet he continues to move toward you with unrelenting and empowering grace."[iv]
After meditating on Moses' experience, I realized that we cannot presume on our past walk with God. Faithfulness in the past does not guarantee faithfulness for the future. Click To Tweet I believe that one way to live faithfully is to practice intentionality. Before making a choice, we must be purposeful in considering God's way so that our actions reflect his decrees. We must be vigilant, deliberate, and constant in our battle to be faithful; we must be intentional to walk the faithful way.
Remaining Faithful
Understanding the significant impact of unfaithfulness is imperative as we journey toward the Promised Land. Like Moses we are all susceptible to ungodly responses and temptation that can result in disappointing and unwanted repercussions. Prayerfully consider these questions:
What is one way you can "be on guard" against doing something permanently foolish?
Compose a prayer communicating your desire to be intentionally faithful.
Prayer for Intentional Living
Father, teach me how to be intentional and careful as I choose to live faithfully and wisely. Thank you for your unrelenting and empowering grace. Amen.
Whenever we fail—and fail we will, the Spirit of God will work on us and bring us to the foot of the cross where Jesus carried our failures. . . . One who draws on God's Mercy and Grace is quick to repent, but also slow to sin.
Mutua Mahiaini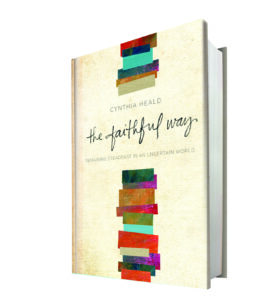 This post is an excerpt from the book, The Faithful Way: Remaining Faithful in an Uncertain World by treasured Bible study teacher Cynthia Heald. In this 31-day devotional, Cynthia encourages you to live an intentionally faithful life that brings honor to Christ and enables you to say, "I have remained faithful." Read another excerpt here.
[i] "Joburg Residents Get Daily Inspiration from Chalkboard Wisdom," SA People News, September 26, 2016, https://www.sapeople.com/2016/0926/joburg-motorists-get-daily-inspiration-chalkboard-wisdom/ (accessed February 28, 2019).
[ii] Lockyer, All the Men of the Bible, 247.
[iii] Charles Ryrie, The Ryrie NAS Study Bible (Chicago, IL: Moody Press, 1976), footnote, 241.
[iv] Tripp, New Morning Mercies, September 5.