Darlene longed to have a child. After years of waiting, blonde, blue-eyed Amber was born. She was the perfect baby. She slept, nursed, and smiled. She was never sick, always agreeable. Angel Baby became her nickname.
As Amber grew, Darlene noticed that she seemed oblivious to others. It was as if Angel Baby lived in her own heavenly world. Amber underwent some long and agonizing testing that revealed she was autistic. Darlene and her husband went through a grieving process of understanding, accepting, and finally thanking God. Then they sought programs for autistic children.
Three years after Amber's birth, a brown-eyed boy joined the family. Seth was a real charmer, but was he normal? Questions stormed through Darlene's heart. I remember the day this dear, young woman looked at me and said, "Linda, is it so wrong to want to have a normal child?"
Seth was evaluated and the therapist said, "Yes, it's very possible that Seth is not normal, but we will have to wait and see."
How can one live with this kind of uncertainty, with this kind of pain? "Oh God, What If Seth is not normal — can I bear it? How do I wait months not knowing? How do I trust You in the midst of this dark tunnel?" These were the cries of Darlene's heart.
Waiting for the What Ifs of life, for what might happen, causes the sturdiest of hearts to be anxious. How did Darlene live with her huge What If about her son? How do you and I live with the What Ifs God allows in our lives? Darlene ended up looking at her situation through the eyes of faith. She also worked through a practical project to help her face her worst What If.
Our Trust Level
When What Ifs come into our lives, we must ask ourselves if we're going to judge God by the circumstances we don't understand or judge the circumstances in the light of the character of God.
Isaiah 41:10 declares,
Do not fear, for I am with you;
do not be dismayed, for I am your God.
I will strengthen you and help you;
I will uphold you with my righteous right hand.
We can trust God only when our focus is on Him and not our circumstances.
Psalm 141:8 encourages us to fix our eyes on our Sovereign Lord and take refuge in Him. Psalm 112:7 says, "They will have no fear of bad news; their hearts are steadfast, trusting in the Lord." Only as our hearts are fixed on our loving Lord can we be at peace in the midst of What Ifs. How wonderful it is to be assured that as we choose to fix our hearts on God, He — at the same time — upholds them!
Most Christians are able to initially trust God with their problems. Then the doubts begin: Does God know that Seth may not be normal? Does God know that my daughter is ill and living in survival mode? Does God know I might have cancer? Does God know my teenager is tempted by drugs?
We find ourselves playing catch with God: Oh God, You might drop her; let me have her back and I'll worry about her. Surely that will help. Our trust level must be higher if we are to learn the secret of contentment. We must give the ball to God and leave it there. No more games of catch.
Are you going to judge God by the circumstances you don't understand or judge the circumstances in the light of the character of God?
Darlene's Dilemma
As Darlene struggled with trusting Seth to God, she made a choice. She said to me, "Linda, my purpose here on earth is to glorify God. If He knows that the best way for me to bring Him glory is to have two special-needs children, then I accept His will for me."
I walked away from my discussion with Darlene humbled by her willingness to trust her greatest What If to God. I thought of a quote that so aptly described her: "Neither go back in fear and misgiving to the past, nor in anxiety and forecasting to the future, but lie quiet under His hand, having no will but His."3
Darlene chose to trust God even when she didn't understand, didn't feel like it, and couldn't see what God was doing. Working through a practical project helped Darlene face her worst What If. Here's what she did: "First, I asked myself, What is my worst What If? The answer was that Seth also would be autistic. Then I asked myself, Can I trust God with my worst What If? Would God still be God? Would He still be sovereign? Would He still be Love and Goodness? I answered yes. After facing my worst What If, I made a decision to cast this huge anxiety on the Lord. I knew He cared for me. Then I asked God to give me the strength to live today, just today — to leave the fears and worries of tomorrow with Him.
These steps are the same ones that liberated Willis Carrier, the brilliant engineer who launched the air-conditioning industry. When Carrier was a young man, he was given a job he felt was impossible to do. He was so distraught that he couldn't sleep. "My worry wasn't getting me anywhere, so I figured out a way to handle my problem without worrying." It has three steps:
Ask yourself what is the worst that can possibly happen.
Prepare to accept it if you have to.
Then calmly proceed to improve on the worst.
Willis Carrier said that after discovering the worst that could happen (the company would lose money and he would be fired from his job) and reconciling himself to accepting it, an extremely important
thing happened: He relaxed and felt a sense of peace he hadn't experienced in days. From that time on, he calmly devoted his time and energy to trying to improve upon the worst What If.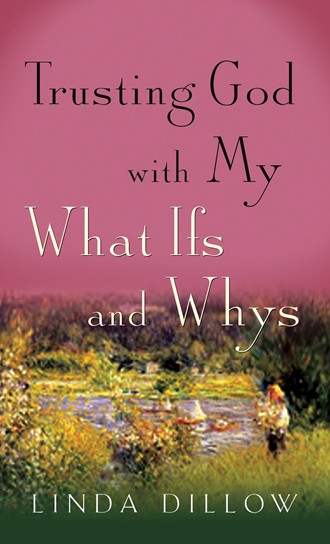 When I read this three-step plan on how to face the worst What If, I thought, This seems helpful, but is it biblical? As I searched the Scriptures, I became convinced that many people in the Bible did just what Carrier suggested. The apostle Paul said he faced death daily. He had faced the worst his enemies could do to him and was able to say, "To me, to live is Christ and to die is gain" (Philippians 1:21). Because of this attitude, he was free to boldly proclaim the gospel. He had faced the worst and said, "It is gain," so he preached on.
Queen Esther is an example from the Old Testament. She knew that if she went before the king with her plea to revoke his order to put all Jews to death, she might die. She said, "If I perish, I perish" (Esther 4:16). She faced the possibility of death, gave her situation to God, and then was free to devise a plan to keep the worst from happening.
What are your serious What Ifs? What are your silly What Ifs? Are you ready to stop playing ball and give them to God and leave them there?
Holy Father, I cripple myself spiritually by dwelling on the What Ifs. I confess that too often I've made control and strategies my strength. You have said that blessed are those whose strength is in You. I long to be a "blessed one" who makes You, the Lord God, my total trust.
---
Adapted from Trusting God with My What Ifs and Whys by Linda Dillow. Check out more from Linda!