I have a confession. I'm an introvert, and at times, being around other people drains me. This is especially true when I'm in social settings for extended periods with people I don't know well. I'm pretty good at hiding it and have learned to function at a high level in such settings when necessary. But on rare occasions, I've reached my limit and done something I'm not proud to admit: To escape, I've pretended to receive an important call.
There. I said it. I've done it. Not often, but I've done it.
I'm guessing I'm not alone. C'mon, be honest. Have you ever found yourself in an uncomfortable social setting and pretended that someone was trying to reach you? You suddenly feel a phantom vibration and check the screen. You put the phone to your ear and say something like, "Hello? Oh, hey there. Yeah, I'm at a party but can spare a minute. What's up?"
On the other end of this pretend phone call? Silence. Nothing. It's a fake conversation—not a real call.
Os Guinness wrote, "There is no calling unless there is a Caller."[i]
An honest exploration of vocation really is the best way to live your twenties, because it takes hope, purpose, and meaning seriously. No pretending. No faking. This means you must fathom the true source of your calling and confront two timeless, hauntingly beautiful questions:
Who is God?
Who am I?
These are tough questions to explore, but if you want to know your calling, you need to know your caller. And you need to know who you are as the called. This may seem overly simplistic, but it's essential. Before you consider your own vision for a good and faithful life, it's important to orient yourself in light of God's character and story. To whom should you listen? Who is God? What about God's character shapes your story?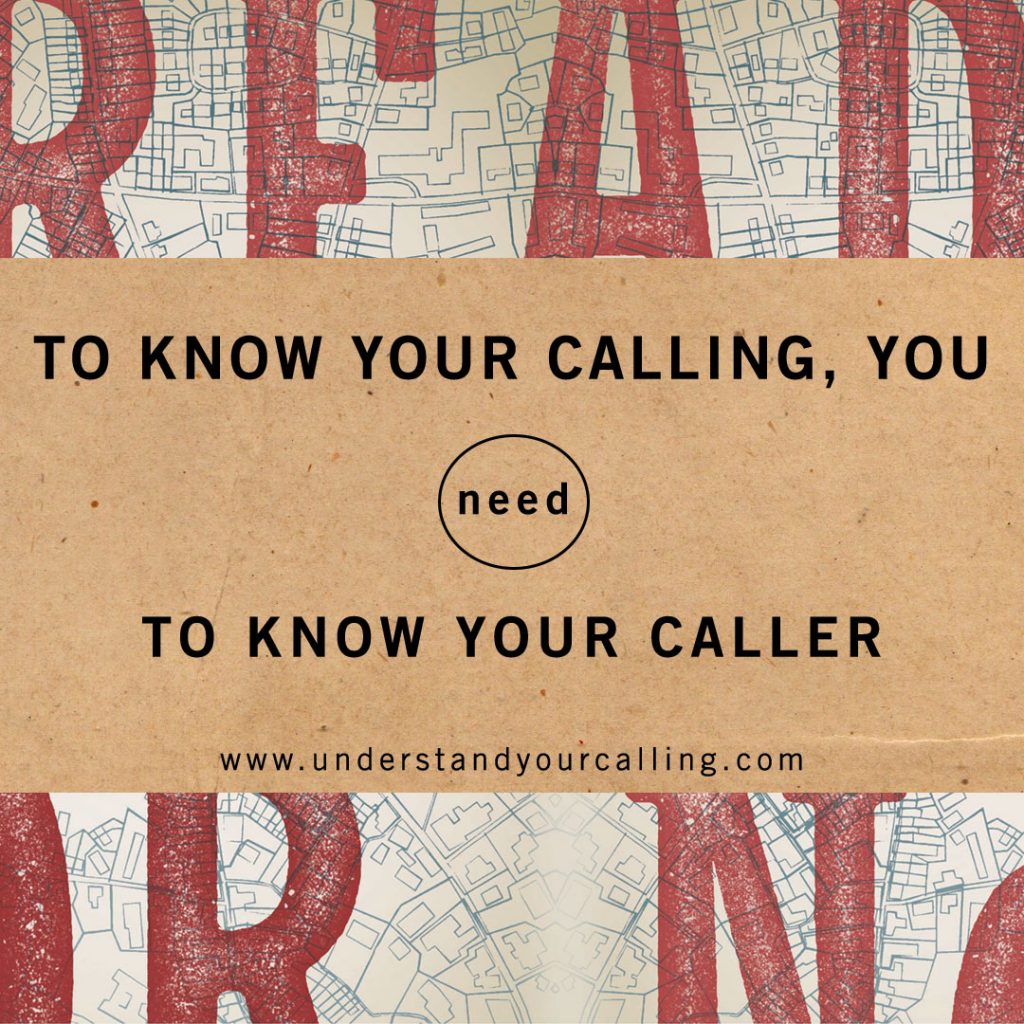 Consider this question here and now:
If you believe in a God who calls you into being, a God who calls you to lean into faithful dimensions of the good life, does your understanding of vocation flow from a healthy understanding of who God truly is?
Comprehending God is tricky work because of his vastness and glory compared to our human limitations. The ancient Hebrew understanding of God illustrates this complexity. In the Old Testament, God is often referred to as Yahweh. For centuries this name has been written with the consonants YHWH and a couple of vowels. God is Yahweh, which means "I am who I am" or "I will be who I will be."
Um . . . okay.
Consider it this way: God cannot be sufficiently defined or put into a category. He is who he is. He will be who he will be. Period. End of story. Nothing else compares or even comes close to the great I AM. As biblical theologian N. T. Wright once wrote, "He is his own category."[ii]
Trying to comprehend the incomprehensible can be maddening. A serious exploration of the very nature and essence of God will invariably lead to gaps in your understanding. These gaps can be filled in a variety of ways. Filling them in unhealthy ways can result in damaging views of God.
The apostle Paul, in his first letter to the church in Corinth, wrote, "Now we see only a reflection as in a mirror; then we shall see face to face. Now I know in part; then I shall know fully, even as I am fully known" (1 Corinthians 13:12). We may not be able to know God completely, but we still have eyes to see. And we can trust in the fact that he fully knows us.
I want you to seek God and experience being fully known. We believe this is good news ("gospel"), for you truly love only what you know. God's call upon you flows from a unique love for you.
To be seen and known by God is powerfully explored in John 10, one of Jesus' famous "I am" statements: "I am the good shepherd. The good shepherd lays down his life for the sheep. . . . I am the good shepherd; I know my sheep and my sheep know me—just as the Father knows me and I know the Father—and I lay down my life for the sheep" (verses 11, 14-15).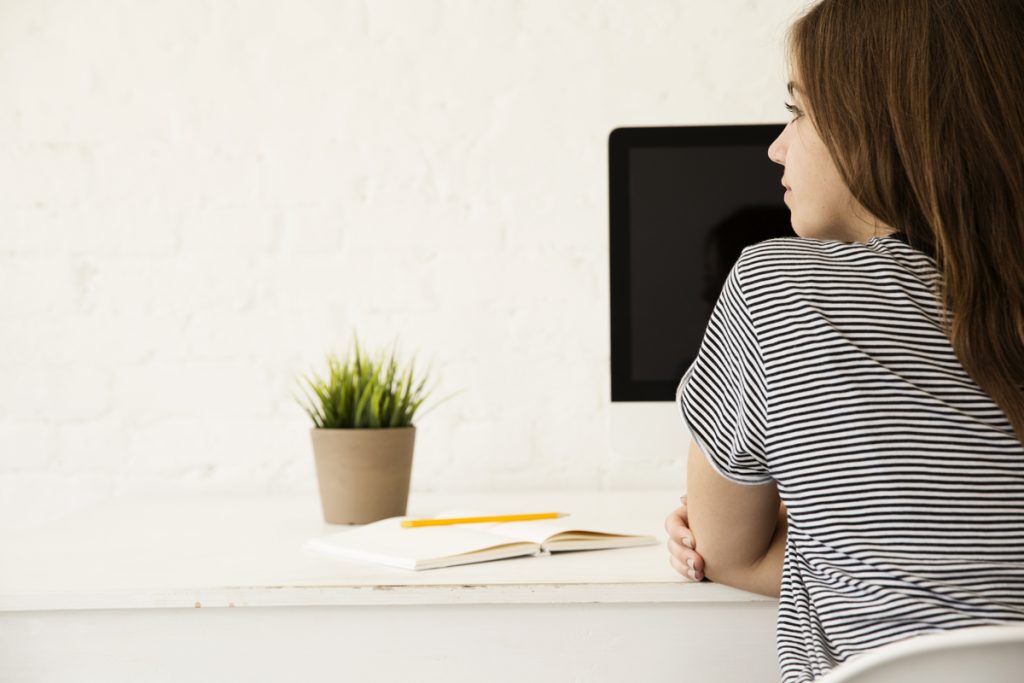 There is so much goodness in this metaphor, such an abundance of care, protection, provision, and sacrifice. Jesus boldly claimed, "I have come that they may have life, and have it to the full" (verse 10). This is who God truly is: the Good Shepherd of your twenties who gives you life.
Take a moment to consider this. God desires full life for you This full life is not generational or age dependent. Full life is for you, here and now. In your twenties. God gives you full life through his very nature as you follow him.
Consider the following passages. Read them aloud and fathom them as they apply to your life:
God is good.  "You are good, and what you do is good" (Psalm 119:68). "Give thanks to the Lord, for he is good; his love endures forever" (1 Chronicles 16:34).
God is loving. "Whoever does not love does not know God, because God is love" (1 John 4:8). "God is love. Whoever lives in love lives in God, and God in them" (verse 16). "There is no fear in love. But perfect love drives out fear" (verse 18).
God is compassionate. "The Lord, the Lord, the compassionate and gracious God, slow to anger, abounding in love and faithfulness" (Exodus 34:6).
God is helpful. "Do not fear, for I am with you; do not be dismayed, for I am your God. I will strengthen you and help you; I will uphold you with my righteous right hand" (Isaiah 41:10).
God is generous. "Every good and perfect gift is from above, come down from the Father of the heavenly lights" (James 1:17).
God is eternal. "Jesus Christ is the same yesterday and today and forever" (Hebrews 13:8).
God is patient. "The Lord is not slow in keeping his promise, as some understand slowness. He is patient with you" (2 Peter 3:9).
Remember the words of Os Guinness: "There is no calling unless there is a Caller."[iii] Despite our best efforts, you won't truly live your twenties with hope, purpose, and meaning until you acknowledge the divine Caller. Just as a shepherd lovingly calls his sheep, the divine Caller calls you into purpose, meaning, and hope. And he does so out of his perfect love for you. Theologian Michael Reeves captured the essence of this love in his book Delighting in the Trinity: "Here is a God who is not essentially lonely, but who has been loving for all eternity as the Father has loved the Son in the Spirit. Loving others is not a strange or novel thing for this God at all; it is at the root of who he is."[iv]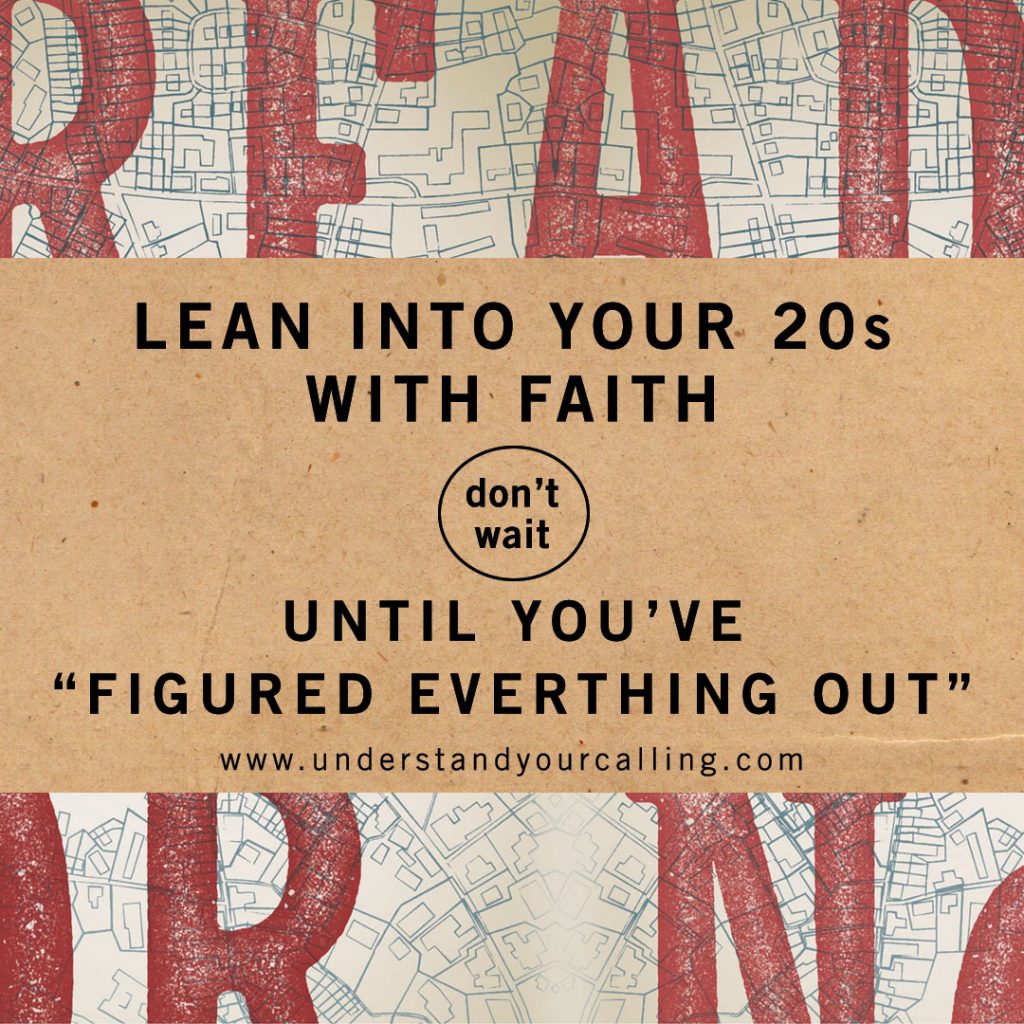 God calls out of his love for us. God is the caller; we are the called. In this living out of God's call, we are drawn into the very redemptive work of his creation, often referred to in the Latin as the missio dei. It's a work God calls us to join him in accomplishing. According to our friend Steve Garber, this call (vocation) is not incidental to the missio dei. It's integral to it, an essential part of God's redemptive design. It's tough, messy work in which a divine being who is his own category calls broken people to participate with him in restoring a broken world. How do we respond?
Garber recommended a great starting point: remember. God is calling out to us, "Remember who I am. Remember who you are. Remember how you are to live."[v]  When we remember the important things, we live differently. When we consider what a good and faithful life is for us, we must remember God, remember who he created us to be, remember how to live for him. This is the essence of the story of God and his missio dei. Our vocations are our roles in this mission. God's character projects meaning, purpose, and hope to us. We are to live accordingly.

---
You've been reading with Dr. Drew Moser from Ready Or Not: Leaning into Life in Our Twenties. Read the first chapter here. Dive deeper on your calling and vocation on Drew's website- understandyourcalling.com.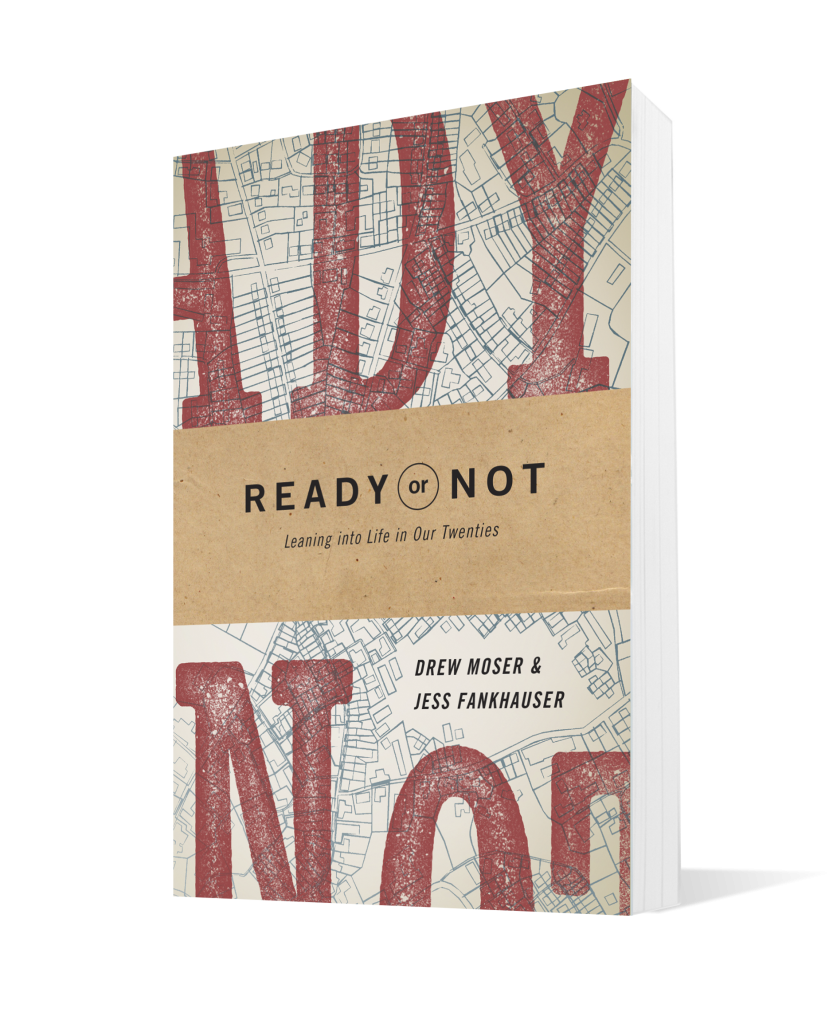 [i] Os, Guinness, The Call: Finding and Fulfilling the Central Purpose of Your Life (Nashville: Thomas Nelson, 2003), 20.
[ii] N. T. Wright, Simply Christian: Why Christianity Makes Sense (New York: HarperOne, 2006), 67.
[iii] Guinness, The Call.
[iv] Michael Reeves, Delighting in the Trinity: An Introduction to the Christian Faith (Downers Grove, IL: IVP Academic, 2012),41.
[v] Steven Garber, Visions of Vocation: Common Grace for the Common Good (Downers Grove, IL: IVP Books, 2014), 104.