(Note: You may be wondering why I'd chime-in on an event that seems so five minutes ago. I immediately had a reaction to the event, but I chose to take some time to listen to some friends of mine with different cultural backgrounds. Thank goodness! I learned some things.)
—
I saw the socially-awkward couple approach our preacher.
He was carrying something large.
She had a beard.
I'm not even kidding a little.
I heard him say, "We'd like to do a special music this morning. I'll play the accordion and she will sing." For any church leader, those situations are shocking, maddening, and hilarious – all at the same time.
David Platt probably wished he'd only needed to decide how to deal with the request I heard, as opposed to having the most polarizing figure in the world show up, unannounced after a round of golf, and ask for prayer. I've been in some weird moments – ones where I have seconds to choose the wisest action. They are excruciating and I have not always gotten them right.
Platt chose to publicly pray for the President. It was a good prayer, not biased or political. It did not reflect the partisan spin Franklin Graham chose, days earlier, in wording his plea for national prayer for the President.
Some praised Platt. They believed he publicly followed the Biblical command to pray for our government's leaders. Others, with a strong distaste for the President, saw someone willing to pray for his enemy.
However, some criticized Platt for inviting the President to the stage. They felt Platt got played for a photo-opp. If POTUS was sincere, they believed, he would've either skipped golf and attended the whole service or simply asked for private prayer. Platt could've followed the Biblical commands to pray for our leaders without placing Trump in the spotlight. Because of their background, when they saw a politician on a stage, they saw a ringing endorsement. The prayer was not their issue; the stage was. They wondered if a homeless man, a far-left politician, or a Muslim cleric would've received the same treatment.
Some of the criticism of Platt was measured, gracious, and productive. Some was vitriolic and slanderous.
Platt wrote an open letter to the church. He explained that it was not a planned, partisan moment. The letter was pastoral, assuring them of the church's love for all people. It also was instructive, reminding them that God's Kingdom transcends politics.
That's when Platt got hit from the other side. He was accused of caving to their political enemies. Falwell Jr's attack was especially crude and unhelpful.
In my book, Dancing in No Man's Land, I use the metaphor of two warring bunkers. "Join my attacking bunker or be killed!" they shout. They lure people to not just agree with their position, but to attack their opposition. No Man's Land is a way of living in which we one seeks truth and peace.
I'm not suggesting that Platt handled this in the best way. Speaking to a diverse group of church leaders before making the decision may have altered the outcome. Regardless, Platt now has an opportunity to do something incredibly difficult: pursue truth and peace.
Platt can pursue truth ("What should we have done?" and "How can we best pastor our church through this?") by seeking wisdom from the Lord and from a group of trusted, diverse friends. He can pursue peace by responding to the attacks without vengeance. If he does both, it will feel like No Man's Land because those on the edges won't be happy unless he enters their cult by declaring hate against their perceived enemies.  Jesus knew the feeling.
"Should we pay taxes or not?" was one of many questions asked in order to trap Jesus. If you want to know how Jesus would probably respond to, "What should you do when Trump crashes your church service and asks for prayer?" you might want to read how Jesus responded to the tax question: simple but not simplistic, a rebuke for anyone with a polarizing agenda, and a gracious path forward.
I'm not sure what I would've done in Platt's situation. I hope I would've done what we did when the Mayor showed up unannounced. (We thanked him for coming and prayed for our city leaders; we did not ask him to come forward, nor did he ask to.) But maybe, in that pressurized moment, I would've responded like we did to the accordion "musicians." (My ears still hurt.) Here are a few things I'd hope you'd do, regardless of my response:
If you don't know me, learn about me. Platt was accused of things that aren't true.
If you do know me, consider my motives. Platt's motives were assumed by people who have no clue what they are.
Show some grace towards a pressurized decision that I might regret. Show some grace towards how I tried to extend compassion towards those who didn't agree with my decision. We all need grace. We might still need correction, but don't forget about grace.
You can obey Jesus and have a strong opinion on Platt's decisions. But you can't obey Jesus and be rude, unkind, quick to anger, slanderous, harsh, or divisive. The Church won't be stronger if you alienate David Platt. I don't know him, but his preaching and writing press the church to follow Jesus, make disciples, consider the whole world, and care about justice issues. Plus, my dear friend LeRon West says Platt is a humble, passionate Christ follower. (And if LeRon says it, I believe it.)
But here's the big question: "What would it look like for you to submit your opinion about David Platt to the Lordship of Christ?"
If you missed out on this news story, don't worry. There will be another one very soon. You'll have the chance to rush to judgment, be quick to speak, be quick to anger, cause division, place obstacles in front of unbelievers, and show scorn for both truth and peace. But instead, what would it look like for you to submit your opinion about tomorrow's headlines to the Lordship of Christ? It might look like No Man's Land. And once you quit ducking the bullets long enough to look around, you'll see you are in wonderful company.
Oh man, I've finished this post without answering my original question. I guess we'll just have to hope Trump, accordion in hand, comes to our church. If he does, I'll tell you how it goes.
---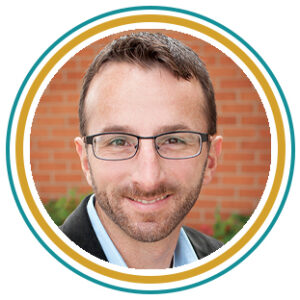 You've been reading with Brian Jennings. This article was originally published on Brian's blog, check it out at brianjenningsblog.com. Read a free chapter from his book Dancing in No Man's Land to learn how to move with peace and truth in a hostile world.