"What is it going to take to see legit transformation in the communities in our country?"
This was what my wife asked me in the wake of our time in Ferguson. As we wrestled with pain and fear and hopelessness, we were weighed down by the monumental task before the church. I'd told her I felt that the leadership in the local church needed to reflect its local community—not just ethnically but also generationally and socioeconomically. If those pursuing Jesus' mission created this sort of culture, over the course of time, the community at large would see the hope it provides. But I had no idea how we were going to get there. And so I took these questions before the throne room of God.
Those hours of prayer were filled with every emotion I had ever felt in my being. I desperately cried out for clarity and insight. I needed God to give me hope because I was scared that my heart would be consumed by hate.
Slowly, the Lord began to share with me His answer: He was calling me to help the Kingdom of God become more visible through the local church. If we are ever going to be healed and whole, our communities need Jesus-centered, multiethnic, multicultural, and multigenerational-led churches modeling long-lasting engagement, intersecting the six avenues of life with the gospel, and mobilizing others to do the same.
The gospel should be faithfully and strategically woven into the FABRIC of community life.
Family—The Christian home is the first mission field, and those within the local church should model and multiply a Jesus-centered emphasis that mirrors Ephesians 5:22–6:4, Colossians 3:18–4:1, and 1 Peter 3:1-7. Since the church is God's family, our understanding of family should include nuance and space for blended families, unmarried believers,[i] and foster care and adoptive members. All of these voices have value; none are second-class citizens in the Kingdom.
Authority (Scripture, government, and law enforcement)—We must model what it looks like to pray for our national, state, and local leaders (1 Timothy 2:1-6). Additionally, we must couple our prayers with a lifestyle of submission to the authority of God's Word first and our government authorities second (Romans 13:1-7; 1 Peter 2:13-17). Yet we must also consider the call to speak out against injustice and mobilize to do justice on both spiritual and social levels in our community.
Business—We must consider how our finances will help those in need (Philippians 4:10-20) and flourish the communities we worship in. We must show store owners in our neighborhood that God's people practice generosity and contentment (1 Timothy 6:6-10). All the while, we must seek to help the unemployed find employment, even if that means creating job opportunities for them.
Religion—We must ask Jesus to fill our hearts with His compassion (Matthew 9:35-38) as we reasonably respond to those who oppose our faith (1 Peter 3:13-17). We must diligently discover how to translate God's story to people groups living in our proximity and reach out to them as we make Christ known. In addition, we must offer apologetic insights to counter the ethnocentric cults that proselytize Christians of non-European descent who struggle with not having their ethnicity affirmed.
Institutions (education, elder care, and rehabilitation)—We must invest time in securing employment and in volunteering in local schools, retirement homes, hospice centers, jails, and prisons. We must also lobby for education and prison reform to enter our community; we must respond to the cries of our city that resemble Psalm 10:10-18.
Culture (arts and entertainment)—We must view the culture through the lens of God's story before we engage it. We must examine the culture's belief system, language, and practices in light of Scripture so we can find ways to relate while remaining morally pure. Our speech should be filled with hope and concepts the culture can understand so that we can build relationships with the people around us. We will fight against sinning to gain approval (Acts 17:16-34). The relationships we develop will be in harmony with Paul's method in 1 Thessalonians 2:8.
Mobilize others to do the same. As church leaders live out the above nuances, they'll organically launch their people to daily do the same.
The vision God embedded in my heart that day, alongside the mosaic montage of Generation Z, fuels my heart with hope for the future of the American Protestant church. I genuinely believe we're on the cusp of seeing the gospel's power in full display, evidenced by the ethnic, generational, and socioeconomic diversity in Christ's body becoming more visible every day. We in the church can display the Kingdom by communicating God's message of ethnic conciliation, establishing key relationships for the work, and raising up local leaders.
---
You've been reading with D.A. Horton from his new book- Intensional: Kingdom Ethnicity in a Divided World. Get the book or keep reading with a free excerpt here. D. A. is a Mexican-Choctaw-American church planter and speaker who engages with the tensions between our racial realities and the truth of the gospel. He currently serves as an Assistant Professor of Intercultural Studies at California Baptist University and pastor of Reach Fellowship in Long Beach, CA.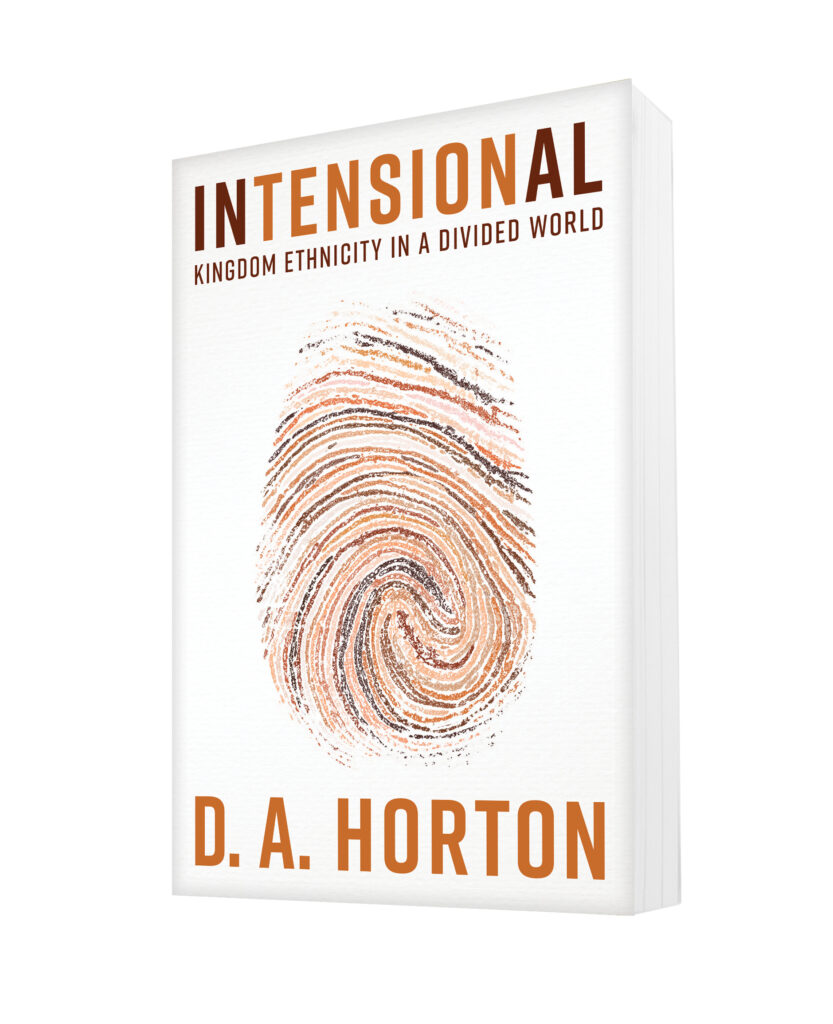 [i] In a book I wrote with my wife, Enter the Ring: Fighting Together for a Gospel-Saturated Marriage, we consider the single, divorced, single parents, and widowed nuances in our term for unmarried. Our appendix helps churches affirm and empower these saints, so they aren't marginalized in church life or discussions about family.