Week 1: Sorrow is a Gift
Week 1: Sorrow is a Gift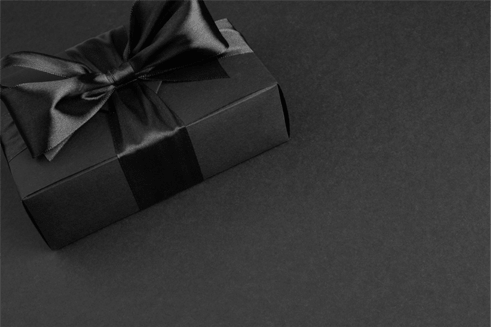 The gift of sorrow is a signal to slow down and stop running for your life, because you can never outrun your sorrow. It always catches up with you and eventually takes you down.
The core reason that you can't outrun sadness is because, as Pastor Bob Moeller told me, "Sorrow is a gift."
Sorrow is a gift with a purpose.
As with the pain of a broken bone, the deep pain in your heart and spirit enables you to acknowledge and understand that you've been wounded. Therefore, logically, you must make time to get the help and support you need to heal.
I call this grieving on purpose. Slowing down helped me to see that I already had the tools I needed for wellness. I discovered that God had answered my prayers by leading me to become an expert in Behavior Design.
Sorrow is an invitation to stop and recover.
It's the chance you're given to finally see that the ways you're choosing to numb your pain are harming you and the people you love.
Your sorrow is sending you a loving reminder to slow down, stop, and acknowledge and answer questions.
It's your invitation to stop running and to rest and grieve your losses so that healing and recovery can begin and progress. And remember,
You are worth the work.
Perhaps your sorrow is not because of something that was lost but because of something that was stolen. You are a trauma survivor—even on your best days, you know your heart is still shattered. I've been there too. Your sorrow is trying to tell you that though the trauma that created it was not your fault, recovery needs to become your new full-time objective, because ignoring this responsibility is costing you your life.
Jesus was described as "a man of sorrows, acquainted with deepest grief" (Isaiah 53:3, NLT).
I believe that sorrow is a gift from God that helps us do much more than just survive. The gift of sorrow is what fuels His passion and ongoing mission to heal the brokenhearted, to proclaim freedom for captives, and to set free those who are oppressed, bruised, and crushed by tragedy.
This is my favorite thing about living and loving by faith: The evidence of God's love shows up everywhere. If you cultivate the tiny but mighty habit of looking for God in every situation, you'll discover that He is constantly at work for good in this great universe.
It's important to understand that God didn't hire a messenger or send some angel to lead His children home. God came Himself to show us the way. Jesus suffered abuse, ridicule, rejection, torture, and murder to invite you into His joy and to find completion in Him. And He did it because you are worth doing the work.
With His guidance, wisdom, and power, you'll become equipped to accomplish things that once seemed impossible.
And just in case no one has ever said this to you before: I'm so sorry for what you've been through. It wasn't right, it wasn't fair, and you didn't deserve it. What happened to you matters because you matter. You may never forget what it feels like to have suffered so much, but you can be well. It can be well with your soul. You have chosen to join this journey.
You are a survivor like me—that's how I know you can do this. Recovering from complex trauma is like facing a giant, and it requires courage and faith like you've never known.
If you want to make it to the other side of your sorrow, you'll need to do the work, have self-compassion, be aware of the choices you have, celebrate hope, take courage, slow down, learn your gifts, find and trust your allies, armor up, train hard, make healing choices, and press on toward joy.
But if you're unwilling, I'm sorry—you're not going to make it. And I really want you to make it. That's why I came back for you.
An Introduction to Tiny Habits®
Each week on this journey, I will introduce a three-part Tiny Habit exercise that you will continue to do throughout the week. It's as easy as saying your ABCs. In fact, that's the acronym for what I am teaching you.
A: Anchor Moment
To begin your journey into the art of Tiny Habits, you'll need to identify your first Anchor Moment. It must be tiny and simple. The tinier the better. Your Anchor Moment must be an existing behavior in your daily life—a part of your everyday routine, such as brushing your teeth, using the bathroom, or starting your car.
One of my favorite Anchor Moments is the act of waking up—it's simple and so easy.
B: Tiny Behavior
Because we are focusing on your brand-new, super simple identity alignment, I'll use the Tiny Behavior example of saying out loud, "I am loved" immediately following the Anchor Moment.
There's something about speaking out loud that's supernatural. Once you've spoken it, it can never be taken back. It is released into the world—it's real.
C: Tiny Celebration
Finally, you must immediately include the Tiny Celebration, which wires the habit into your brain. C is my favorite! It's how we create "Shine" everyvday! I can't express enough the importance of affirmation and celebration. We change for good through positive reinforcement, not negative. So always include a Tiny Celebration in your Tiny Habit recipe. It won't work without it.
Your Tiny Habits will accumulate into a lifestyle of victory. Practiced daily, they will produce an increase of peace, hope, and joy—one tiny choice at a time.
Tiny Habit Example
Here is my first Tiny Habit:
It's very special to me. It represents the beginning of a whole new way of life and freedom I'd never known. It's kind of like the way Mr. Krabs in SpongeBob SquarePants feels about his first dime. The Tiny Habit is called the Maui Habit. And it's so simple! Always remember, it's as easy as ABC. And it goes like this:
Anchor Moment:
I wake up and put my feet on the floor.
Tiny Behavior:
I say out loud, "It's going to be a great day."
When I first began working toward mastering my own Tiny Habits, Dr. Fogg taught me to modify the Maui Habit to make it easier. While I worked toward mastery, as Dr. Fogg taught me, I would add the word "somehow" to my Tiny Behavior.
"It's going to be a great day—somehow."
Celebration and Shine (my favorite part!):
To wire the habit into my brain, I will immediately smile (and slowly take a deep breath).
Here is a sheet that outlines the Tiny Habits process. Feel free to save it on your phone or print it out for future reference.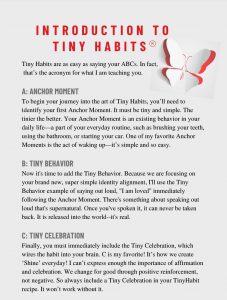 Download HERE.
Are you ready and willing to use the ABCs in your healing journey? Let's go. I'll show you the way.
Activity: Your First Tiny Habit
Addressing My Sorrow
Emotions create habits. Your emotions prompt you to respond to things with specific behaviors, creating a network of habits that are systematically maintained.
When prompted by my pain, instead of shaming, judging and condemning myself, I thank God for the gift of sorrow and prayerfully allow Him to help me to design a response that's tiny, helpful, and good.
Anchor Moment: 
After I feel sorrow . . .
Tiny Behavior:
I will take a deep, slow, calming breath (in through the nose, out through the mouth).
Tiny Celebration:
And then I will smile and say, "Thank You, Jesus."
Start creating your Tiny Habits, and don't forget to celebrate! Next week, we'll learn that goals don't work—systems do. So glad we are doing this journey together.
Mark your calendar for Wednesday, August 4, 2021. I'll be hosting an Amazon live stream event, Moving from Trauma to Faith. It will be a short talk (under an hour) with lots of time for questions. Come on and join the party!
Learn more HERE.
Let's keep the conversation going.
Instagram @tiny_habits_for_soul_care; @navpressbooks // #youareworththework #tinyhabitsforyourhealingjourney #tinyhabits