In preparation for the release of Jerry Bridges' new book The Blessing of Humility, NavPress publisher Don Pape sat down with Jerry to talk about his spiritual story, his books, and some of his favorite things!
What's your family background?I grew up in poverty in the Depression. My parents were Christians and were active in our church.
How did you come to Christ? Our church had a regular altar call and I went forward three times but was never born again. Finally, as an 18-year-old college student I prayed, "God whatever it takes I want Christ to be my savior." I instantly had assurance of my salvation.
What is your involvement with the Navigators? I spent the first 40 years of my Navigator career working in various roles in corporate administration. At the end of that time, God graciously opened the door for me to become a Bible teacher, mostly in developing younger staff. During that time God also opened doors to minister in churches and teaching in seminaries.
Your first book,The Pursuit of Holiness has been enormously successful. What do you think made it such a success? This is a question no one has been able to answer other than the fact that God wanted to bless and use the book. I do think that the message of the book had been hammered out on the anvil of my experience but still God had to bless it.
How is The Pursuit of Holiness related to The Practice of Godliness? Do they complement each other?Paul says in Ephesians 4: 22-24 that we are taught to put off the old self and put on the new self. The Pursuit of Holiness was aimed primarily at putting off the old self. In reflecting on Paul's words I decided to write a sequel on putting on the new self, mainly godly character or what Paul also calls the fruit of the Spirit. So each of us should have a goal of dealing with sin and at the same time putting on Christ-like character.
What does practical godliness look like? What are some of the necessary leading traits by which it can be recognized?I call godliness a life focused on God. It consists of a life that is devoted to God and consequently by a life that is pleasing to God. The leading trait is a God-centeredness or God focused in one's life. A person cannot be godly if God is on the periphery of his/her life. A godly person will be sincere about dealing with sin in his or her life, even sins we don't think much about such as pride, jealousy, grumbling, gossip and self-righteousness and seeking to exemplify the fruit of the Spirit.
In May 2014, you published God Took Me by the Hand. What are the seven key "spiritual lessons" you've learned through your story?
Lesson One: The Bible is meant to be applied to specific life situations. This includes God's commands to be obeyed and His promises to be relied on.
Lesson Two: All who trust in Christ as Savior are united to Him in a living way. This means if you abide in Him His very life will flow into you and through us to enable us to be fruitful both in our character and in our ministry to others.
Lesson Three: The pursuit of holiness and godly character is neither by self-effort or simply by letting Christ live His life through us. Rather it involves our most diligent efforts but in dependence on the Holy Spirit to enable us and to bless those efforts.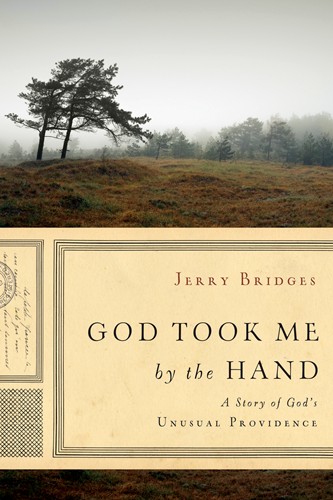 Lesson Four: My understanding of the doctrine of election was a watershed event for me that significantly affected my entire Christian life. I realize that probably a majority of Christians do not accept this doctrine but it produced a deep sense of gratitude and humility in me when I realized that salvation was entirely of Him.
Lesson Five: The representative union of Christ and the believer means that all that Christ did in his perfect obedience and his death for our sins is credited to us. So we as believers stand before God perfectly cleansed from both the guilt and defilement of our sin but also clothed in the perfect righteousness of Christ.
Lesson Six: The gospel is not just for unbelievers in their coming to Christ but for all believers who need the gospel every day because we still sin every day. Embracing the gospel daily means that we can have confidence in our day-to-day relationship with God because it is based on Christ and not ourselves.
Lesson Seven: We are dependent on the Holy Spirit to apply the life of Christ to ourselves. The Holy Spirit's work in us does not make our work unnecessary but rather makes it effective.
You are in the process of writing The Blessing of Humility. How do we practice humility? How does humility—the foundational virtue of the normal Christian life—become a normal part of our everyday lives?The first step in practicing humility is to recognize and admit our still remaining sinfulness. Again, those sins such as pride, selfishness, jealousy, anger, etc. All of us should genuinely identify with the words of the Apostle Paul in I Timothy 1:15, "Christ Jesus came into the world to save sinners of whom I am foremost."
What spiritual disciplines do you practice daily and how do they inspire your writing? Most importantly, my daily time alone with God. I ask God to speak to me through His Word and reflect on and pray over issues that I am dealing with in my life and then I pray according to The Lord's Prayer. By that I mean, "Hallowed be Thy name," is the most important part of that prayer. The second most important discipline now is scripture memorization. At my advanced age of 86, I find this more and more difficult but I try to keep up with verses that have been most meaningful in my Christian life.
 Of all the books you've written, what's your favorite? Trusting God Even When Life Hurts written in 1988, because it tells me so much about the sovereignty and the love of God in the presence of difficult circumstances.
What are some ways you would encourage someone to walk in the path of the gospel daily? The gospel is only for sinners so the best way to walk in the path of the gospel is to continue to acknowledge our sinfulness. Then look to Jesus who forgives us of our sins and covers us with His righteousness.
Do you have a favorite verse of Scripture or "life's verse"? My life verse is II Corinthians 5:21, "For our sake he made him to be sin who knew no sin, so that in him we might become the righteousness of God." This is often called the "great exchange" — God takes my sin and gives me His righteousness.
Dive deeper with the many great works of Jerry Bridges at navpress.com.
//