Jesus demonstrated a life of perfect communion with God. He interacted with his Father throughout the day, spent entire nights conversing with him, and explained to his disciples that he only did what his Father told him to do. As a human being, Jesus experienced the distractions, frustrations, and struggles we all face (Hebrews 2:14-18), yet always kept his ear turned toward heaven. What keeps us from having the confidence that we, too, can converse with God day in and day out?
One of the greatest hindrances might be our preconceptions as to what God should sound like. We hold onto stories of quaking mountains or burning bushes or tongues of fire, but those are the exceptions, not the rule for how God speaks in Scripture. Rabbi and Hebrew scholar David Wolpe points out that this was an issue for young Samuel when God called his name:
Samuel did not understand that the voice belonged to God, because it seemed so ordinary. He took it for Eli's voice, for surely the voice of God would be accompanied by awesome signs, by peals of thunder. Samuel's lack of experience was his failure to realize that God does not speak in earsplitting declarations, but in subtle messages to the heart.[i]
Impressions of the Heart
This is how God speaks most often—in gentle impressions of the heart. As we wait in stillness and sense his presence, we are aware that a voice other than our own has joined our thoughts. Dallas Willard suggestes this still, small voice is God's way of coming into our souls to "make our thoughts his thoughts."[ii] François Fénelon, martyred for his commitment to Jesus Christ in the late 1600s, encourages us to be silent in order to let God speak, and then "listen in the stillness of your heart."[iii]
While we cannot command how and when God will converse with us, as we share our burdens, our concerns, our questions, and our fears, waiting in stillness for him to respond, he often will. Can we be mistaken about what we hear? Yes, and a later section examines this question. For now, accept the reality that he has waited for this moment, knocking patiently at your soul's door. The God of the universe is calling your name—can you hear him? He wants to reveal himself, to make his voice familiar to you—will you let him?
Practicing Prayer: Getting to Know God's Voice
Preparing Your Heart
Spend a few minutes thanking God for his presence and desire to converse with you. Affirm in faith that you are one of his sheep and therefore can know him and hear his voice. Ask for his guidance as you pursue the practice of conversational prayer.
Pressing In
Read 1 Samuel 3:1-11 and consider the following questions:
What was the situation concerning God's Word at this time? (verse 1)
What was true of Samuel concerning God's Word? (verse 7)
Why was Samuel living in this place? (See 1 Samuel 1:20-28.)
Where was Samuel when he first heard the voice? (verse 3)
What does this represent? (See Exodus 25:22.)
What enabled Samuel to finally hear God's Word to him? (verses 10-11)
Although few heard God's voice during this time in history, God chose to speak to a boy who had no real experience of him. Spend a few minutes considering what you've just read. What can you learn from Samuel regarding your own ability to hear God?
Read the following verse aloud prayerfully: "Blessed are those who listen to me, watching daily at my doors, waiting at my doorway" (Proverbs 8:34).
Share with Jesus your desires and your concerns about conversations with him. Then ask if he wants to speak to you. Wait in stillness. If you sense you have heard something, jot it down. You don't have to be certain—we learn as we go.
---
You have been reading and praying along with Tricia McCary Rhodes from The Soul at Rest. The book is a beautiful 40 day journey into developing a life of prayer. Learn more or get the book here. Connect with Tricia at soulatrest.com.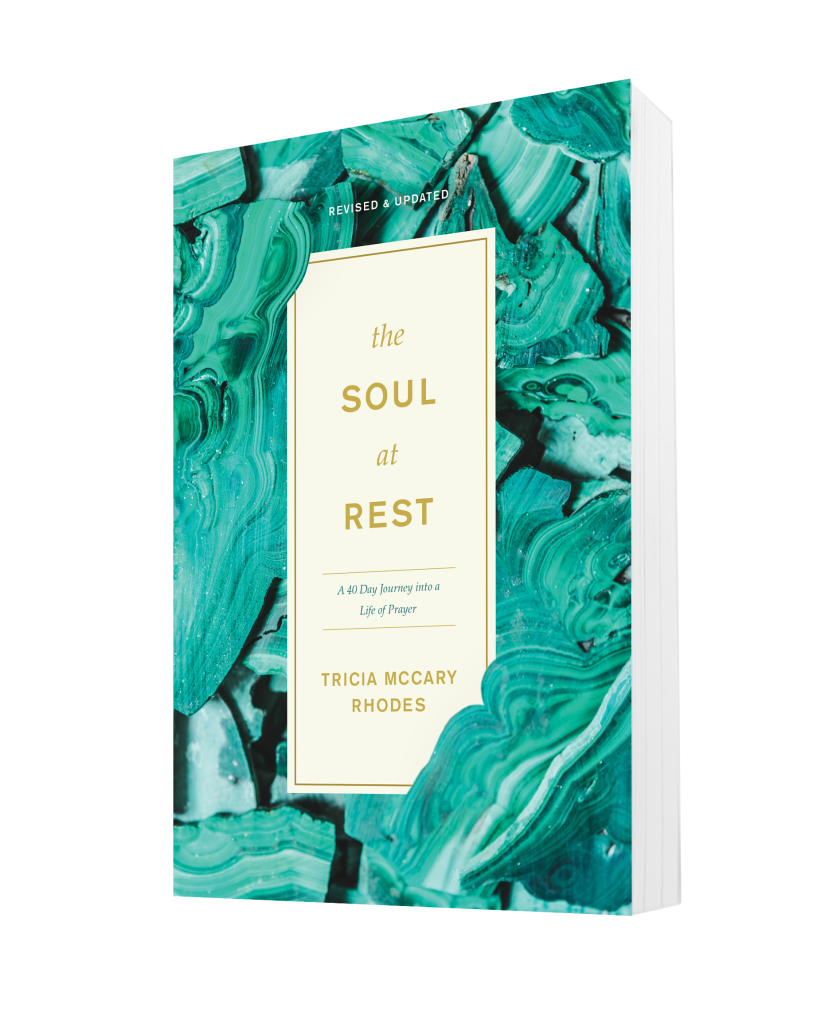 [i] David J. Wolpe, In Speech and in Silence: the Jewish Quest for God (New York: H. Holt, 1992), 152–153.
[ii] Dallas Willard, Hearing God: Developing a Conversational Relationship with God (Downers Grove, IL: IVP, 1999), 102.
[iii] François Fénelon, Christian Perfection (New York: Harper & Row, 1941), 156.