While I was general director of the Overseas Missionary Fellowship, on one occasion I was to go to a conference of our missionaries in one of our fields. It was a Muslim field, a terribly resistant area where there had been no previous missionary work at all. They were starting right at the very bedrock, against tremendous opposition, and had seen practically no fruit.
It was really rugged, and our missionaries tended to be greatly discouraged. I felt that I must have a word from God for these friends, and yet the pressure was so great I had no time to spend in preparing a message.
The night before I was to go to them, I went to sleep late with this burden on my heart. I woke up in the night and prayed, "Lord, you must give me a message." Half asleep, I picked up a copy of the New Testament by C. K. Williams, a British translator. My wife had been reading through and marking it. It came open at 2 Corinthians chapters four and five, where she had underlined four statements: We do not lose heart (Corinthians 4:1); and again, We do not lose heart (Corinthians 4:16); We are of good courage always (Corinthians 5:6); and We are of good courage (Corinthians 5:8).
Immediately I knew that here was the Lord's message. I was fully awake  now, and the Lord brought ideas from the passage quickly to my mind. It was undoubtedly his word for us then, and I trust it will be his word to you as well—for I believe it has relevance to people in every day and every age.
Paul was speaking in these verses about how we can be saved from discouragement, something most of us are tempted by. It is so easy to be discouraged when we are in the midst of the battle.
In the early days of my involvement in mission work I was quite surprised when an experienced missionary said to me, "You know, there aren't many missionaries who have not at some time during their first term considered going back home." But now I would not be surprised if even in your own Christian work you have at some time considered the possibility of not continuing.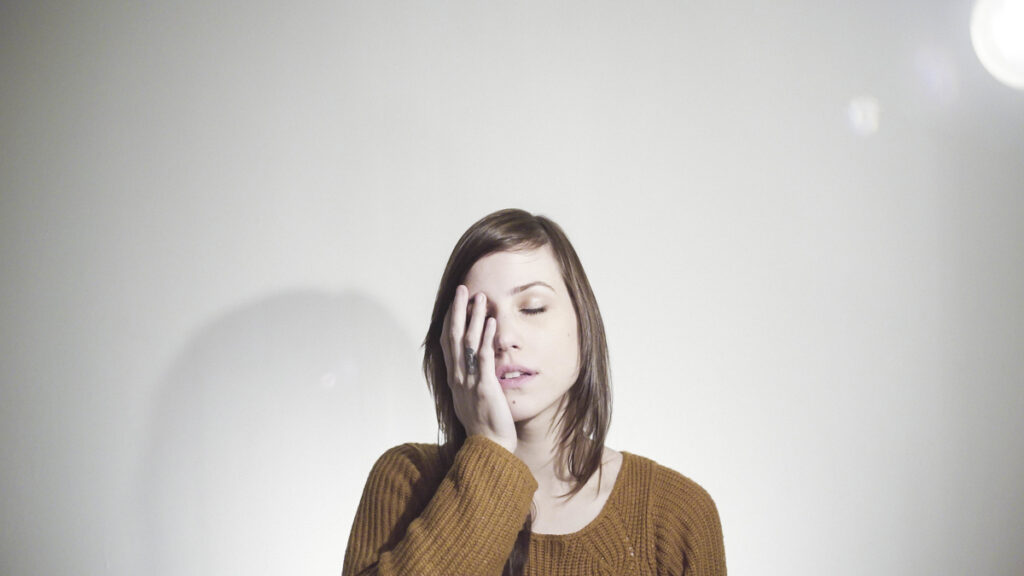 Who has never been tempted to lose heart? Who has never been tempted to drop the bundle? None of us is exempt from the subtle and debilitating attacks of the adversary as he endeavors to deflect us from the power to which the Lord is calling us.
We are all liable to be affected by adverse circumstances. We are all affected by the tyranny of temperament, some more than others. Some have a temperament that is seemingly cast in the minor key, and it is far easier for them to see the dark side of things than to see the bright side of things.
Paul was no stranger to these feelings and these experiences. But here in 2 Corinthians he is saying, "I have learned the secret. I know how to get above discouragement." He says, "We do not lose heart"—a very strong statement. Look at how other translations render it. "We never give up." "We don't get discouraged." "Nothing can daunt us." "We never collapse."
If these statements are to be true for us, surely we need some pretty strong motivation that will carry us over the rough patches and enable us to triumph. What is the motivation that allowed Paul to make such a daring assertion? Whatever it is, it would be wonderful to have it always. And we can.
Yet I can imagine someone saying, "But that was Paul. I am me. If I was like Paul—if I had his spectacular gifts of nature and of grace, if I had his apostolic authority, if I had his superb training and background, if I had his success in service-then perhaps I would not lose heart either. But I am not Paul."
But did everything fall into Paul's lap? Did he have an easy assignment?
That night before I spoke to the missionaries I quickly thumbed through this epistle to see what Paul's experience was. Look at 2 Corinthians 1:8.
We do not want you to be uninformed, brothers, about the hardships we suffered in the province of Asia. We were under great pressure, far beyond our ability to endure, so that we despaired even of life.
See also his "great distress," "anguish of heart," and "many tears" in 2 Corinthians 2:4; his pressure, confusion, persecution, and "carrying around in our body the death of Jesus" in 2 Corinthians 4:8–10; his troubles to the extent of beatings, imprisonment, riots, sleepless nights, and hunger in 2 Corinthians 6:4–5; his hard work, floggings, stoning, shipwreck, and other dangers in 2 Corinthians 11:23–27. "Besides everything else," he said in 2 Corinthians 11:28, "I face daily the pressure of my concern for all the churches."
So everything didn't fall easily into Paul's lap. Apparently he knew quite a lot about failure and pressures and stress. Yet in spite of them he was able to say, "We do not lose heart."
In 2 Corinthians 7:5–6 Paul spoke again of the inward and outward struggles he faced, but reminded the Corinthians that God "comforts the downcast," or, as another version reads, God "comforts those who are depressed." Did Paul ever get depressed? Yes, he did. And how did God comfort him in his depression? "God, who comforts the downcast, comforted us by the coming of Titus" (2 Corinthians 7:6). God sent along a fellow worker.
Here is a ministry that we too can have. When you come in contact with others, do you encourage them? Do they feet uplifted after they have met you, or do you pull them down? Do you lift them or drain them?
Why did Paul need Titus? What was depressing him? He was lonely, that's all! He needed fellowship. God comforted him in his depression by sending Titus to lift him up, and this ministry of comfort and encouragement is something we should seek to develop in our lives.
The first reason
So here in 2 Corinthians Paul opened his heart and shared the secrets of his victory over depression and discouragement. As he said in Philippians 4:12, "I have learned to be content whatever the circumstances."
How did he rise above discouragement? In 2 Corinthians 4 and 5 he gives us four reasons.
The first is in Philippians 4:1—"Therefore, since through God's mercy we have this ministry, we do not lose heart." Paul was entrusted with the ministry of the new covenant, a ministry he received by God's mercy, and he never lost the wonder of this.
As a young man I heard a preacher give a lecture on homiletics in which he said all preaching should contain three elements. The first is the note of wonder. The moment we lose the wonder of the message of salvation, he said, something has gone out of our ministry. Next is the note of warning. Throughout Scripture we find a thread of warning, and we are to warn others. The third element is a note of wooing.
Wonder, warning, wooing. Here in 2 Corinthians 4:1 is the note of wonder. Paul was thinking, I am totally disqualified for this ministry. I persecuted the church of God! And yet I have received his mercy! It is only the undeserving who receive mercy, for if they deserved what was given and entrusted to them, it would not be mercy but justice.
Why did you receive your ministry? Because you are qualified for it? Because you had good training? No! You received mercy. You don't deserve your ministry, nor do I. We would not be ministering to others if it hadn't been for the mercy of God.
Paul never forgot this. He did not allow his past to get him down, but he also never forgot that he should have been a lost soul. Every now and then it came over him: "I am the least of the apostles and do not even deserve to be called an apostle" (1 Corinthians 15:9). His dependence on God's mercy kept him humble, and it will keep us humble too. We are in our ministry only by the mercy of God, and this makes us grateful and encouraged. With all our weaknesses and all our failings, he perseveres with us in mercy, putting us into the ministry of the new covenant as he did with Paul.
The message of the new covenant is—especially to the Jews—an absolutely revolutionary message. If you have never made a study of the old and new covenants I would suggest that you do so, because they are so tremendously important in the Scriptures. We have the old covenant of the law and the commandments, and the new covenant as it is foreshadowed in passages such as Jeremiah 31 and Ezekiel 36, and further enlarged upon in Hebrews 8 and 10.
The Jews had been brought up under the old covenant with its inexorable "thou shalt" and "thou shalt not." There it was, with all its sternness, with all its penalty if they disobeyed. But through his prophets God intimated that there must be a new covenant. Instead of the old "thou shalt, thou shalt not," it now becomes, "I will, I will, I will. I will put my laws within you. I will write them on your heart. I will put my Spirit within you. I will forget your sins and your iniquities. I will remember them no more forever. I will, I will."
Under the old covenant God demanded things which men, unaided, were unable to deliver. Under the new covenant, Jesus himself undertakes the responsibility for the terms being fulfilled. Instead of the old law with its condemnation and impossibility, there is the divine "I will," with the assurance of the Lord's ability to carry it out in our lives.
This is the ministry entrusted to Paul and to us. The new covenant is not a covenant for the spiritually elite. It was tailored to meet the needs of a nation and people who had utterly failed. It is a message for failing men and women—the kind of people we ourselves are, and the kind of people we minister to. And Paul is saying, "With a message like this, how can I lose heart? We have this wonderful gospel, a gospel that not only demands but also enables!"
I trust that you will constantly keep the wonder of this message before you. It has power to transform lives and to lift people up and hold them up. Our Lord himself is the surety.
And remember that the new covenant is based upon the assurance of sins forgiven and forgotten. "I will forgive their wickedness and will remember their sins no more" (Hebrews 8:12). Why should we keep remembering what God says he has forgotten?
When I was young we used to sing this chorus: "No more, no more, no more, no more, my sins are remembered no more. For Jesus has taken them all away, my sins are remembered no more"—simple and unsophisticated, and not great poetry, yet how profound and blessed!
This is the basis of the new covenant: Sin has been dealt with. When it is confessed, it is forgotten by God and need no longer cast its shadow of guilt over our souls.
Something more was promised in the new covenant: the Holy Spirit. "I will put my Spirit in you" (Ezekiel. 36:27). This is the secret of being able to fulfill the terms of the new covenant. God gives the Holy Spirit to enable us to do what we could not do under the terms of the old covenant.
The second reason
The second reason is in 2 Corinthians 4:16—"Therefore we do not lose heart. Though outwardly we are wasting away, yet inwardly we are being renewed day by day." Paul was endowed daily with new strength, though physically he was wasting away.
Paul had been reviewing his soul-winning ministry with all its burdens and perils, and he knew that inevitably in the course of this ministry his outer man was wearing away. When I think of the beatings, the scourgings, the imprisonments, and all that he went through, I wonder what little wisp of a body he had by the time he was writing this letter. He must have had at least one or two rheumatic twinges!
Paul was realistic. Our outer man wastes away. None of us is what we were five or ten years ago. The process of wearing away goes on, and is accelerating in some of us. But Paul says this is comparatively unimportant. The important thing is that our inner man receives fresh strength from God every day. Is this true in your experience?
Yes, Paul says, the outer man wears away-but that is not the whole story. A counter process is taking place: God uses the very circumstances that wear away our outer man to bring about the renewal and strengthening of our inner man. This is how trials and testing can be used by God in our spiritual life to make us stronger. So we shouldn't be resentful as God allows our outer man to wear away.
Notice in 2 Corinthians 4:17 the paradoxes Paul lists. He speaks about the heavy burden, but says it is light. He says our ethereal glory has weight He says the seemingly endless period of trials is only momentary, but that this momentary affliction brings an eternal glory. He shifts from the merely physical to the spiritual. When we see things from God's point of view, even adverse factors have eternal implications. There is the weight of affliction, but there is also the eternal glory waiting on the other side.
Paul experienced fresh accessions of strength day by day, and not just occasionally. Every day he received from the Lord new inner strength. It wasn't merely physical strength, though that was also involved; but it was an inner strength. And he is saying, "No wonder I don't give up, when every day I have this new accession of strength for today's ministry."
But don't think Paul received any special favors. He wasn't God's pet. There is nothing Paul had available to him which is not available to you and to me. Ephesians 1:3 is a key verse: God has blessed us with "every spiritual blessing in Christ." There is no spiritual blessing which God has not already given you.
The question is, How many of these spiritual blessings have you appropriated? Paul says that every day he appropriated from God the fresh spiritual blessings God made available to him. Though his old body creaked and groaned, he was able to rise above the physical and meet the demands of his ministry.
It wasn't that God automatically pumped these blessings into him. Paul received. As he said in Romans 5:17, it is those "who receive God's abundant provision" who will "reign in life." We reign over life's circumstances only to the degree that we take and make our own the provisions God makes.
Why don't we take more from God? Our heavenly Father knows the strains and stresses under which we work. He knows our physical limitations. He knows the weariness of the mother with a little child. He takes that into account. But for every one of us, at every stage and in every circumstance, there is the possibility of being endowed with new strength by the working of the gracious Spirit of God in our lives.
This doesn't mean we should make fresh resolutions to be stronger in the future. That is not what Paul is speaking about. But it does mean we should appropriate and take for ourselves the provision God has made.
The third reason
The third reason for Paul's encouragement is found in 2 Corinthians 5:5–6—"Now it is God who has made us for this very purpose and has given us the Spirit as a deposit, guaranteeing what is to come. Therefore we are always confident . . ."
In the New Testament copy I read that night before talking to the missionaries, C. K. Williams translated in this way the phrase in verse 5 about the Holy Spirit: "God has given us the Spirit, part-payment and promise of more." The third thing preventing Paul from losing heart was that he was endued with the Spirit. God had given him the Spirit as part-payment and promise of more.
Recently I stood by Niagara Falls, watching water pour over the edge, and looking at the large river behind. There was part-payment and promise of more to follow! The same endless supply is what Paul was thinking about. God has given us now the Holy Spirit, and how much more there is to follow! God "gives the Spirit without limit" (John 3:34). The most wonderful experience of the Spirit you have ever had is nothing compared to what lies ahead.
Are we making the most of the ministry of the Holy Spirit in our lives? Paul realized that only as he exercised his ministry in the power of the Holy Spirit could he achieve the supernatural results that were necessary. A supernatural task requires supernatural power, and that power comes through the Holy Spirit. I don't believe we must be constantly hankering after a fresh manifestation of miracles, but I do believe that in evangelical churches there is a great need for our giving the Holy Spirit more room to work and manifest his power.
Paul counted upon the co-working of the Holy Spirit. He said he preaches not in the words that man's wisdom gives, but in the demonstration of the Spirit and of power. He knew what it was to be dependent upon the Holy Spirit for his ministry.
Only the Holy Spirit can give us the illumination to deal with people, and to know what is the appropriate message for them. My father told me of a friend of his, a blind man, who had been trying to lead an old woman to the Lord. He tried every way possible to present the truth to her from every angle, but she never saw it.
One day as he was visiting her he prayed, "Lord, I can't go on anymore unless you give me some passage of Scripture to tell her." While he was praying the Lord put into his mind this verse: "And you shall be my sons and daughters, saith the Lord God Almighty." He said, "Lord, whatever has that got to do with this woman's soul?" But no other verse would 'come. "All right, Lord," he said. "I will give that to her."
He said to the woman, "I have been telling the Lord that there is nothing more I can say to you. I have told you all I know. But one more verse comes to my mind: 'And you shall be my sons and daughters, saith the Lord God Almighty.'"
"Does it say that in the Bible?" the woman exclaimed.
"Yes, why?"
"Oh," she said, "all the other verses you have been telling me have been about men —'Him that cometh to me I will in no way cast out'; 'He that heareth my word.' Does it mean women too? Sons and daughters?"
Who but the Holy Spirit could ever have helped the woman out in this way? She had an absurd objection, yet a soul-winner who depended upon the Holy Spirit received from him the verse that brought salvation to her.
How dependent on the Holy Spirit are we?
The fourth reason
In 2 Corinthians 5:7–8, Paul says, "We live by faith, not by sight," and then, "We are confident I say." Paul was enraptured with the eternal. He was looking at things that are unseen, gripped and controlled by the powers of the world to come.
We are not limited spiritually by this little terrestrial ball on which we live. When our gaze is fixed on things around us, where is the encouragement? There is everything to depress, everything to discourage. But Paul says we don't look at them. They are there, and he didn't ignore them, but they are not what preoccupied him. He was engrossed with the eternal.
So often we live too much in this world. When you finish reading the morning paper, do you feel as though you've had a cleansing bath? No! But when you go to Scripture and start seeing that which is eternal-what a difference!
When our eyes are fixed on temporal things, we get discouraged. But when we lift our sights to what God has prepared for those who love him, we are encouraged. When Peter's eyes were fixed on Christ, he walked on the unstable water and didn't sink. When he was engrossed with the unstable waves, he sank.
When will we learn that spiritual lesson? We look at the things around us, and we're discouraged. We look at the things that are eternal, and we are encouraged.
A fifth reason
Those were the four reasons for Paul's sustained encouragement that came to me that morning. But there is also another one in Galatians 6:9-"Let us not become weary in doing good, for at the proper time we will reap a harvest if we do not give up." Here is the fifth thing that caused Paul never to lose heart. He was encouraged by the assurance of a harvest.
I suppose for the Christian worker there are few things that cause more discouragement than a lack of response in our ministry. You work hard, you pray hard, you weep tears-but the response is meager.
Our ministry is often like that in the early stages. There is always a gap between sowing and reaping, a period of time when the seed germinates, then grows and matures. We might just as well recognize that fact. If you are sowing, don't expect necessarily to reap tomorrow. This is the law of harvest. As in the natural, so it is in the spiritual.
Amy Carmichael, the great missionary in India, was going down the road one day when she saw a road-mender. He had a little hammer and was tapping away at a giant rock. She thought, How futile!
But suddenly he gave one tap and the entire rock split into a hundred pieces. When she asked the road-mender how he had done this, he replied, "Well, it was the first blow and the last blow and every blow in between."
He was quite right. Nothing happened until the last blow, but if there hadn't been the first blow and the middle blow and the three-quarter blow, there would have been no last blow. And when we are doing our work for God, we may strike a first blow and see nothing happen-and a fifth blow and a tenth blow and a hundredth blow. You may not always get to strike the last one-perhaps someone else will-but that doesn't matter. One sows and another reaps. God is at Work, and the good seed has been sown. At the proper time we will reap a harvest if we do not give up.
And the proper time is God's time. With our instant-coffee mentality, we want to witness today and see the response tonight. But God says the time element is in his hand. We do our part, and he will do his. If we work faithfully and are expectant, he will keep watering the seed. We have an absolute assurance of harvest.
He who goes out weeping,
carrying seed to sow,
will return with songs of joy,
carrying sheaves with him. (Psalm 126:6)
Why should we never lose heart?
Because through God's mercy we have been entrusted with a ministry, the ministry of the new covenant.
Because we are endowed every day with new strength, as we learn to appropriate it.
Because we have been given the Holy Spirit, part-payment and promise of more.
Because we are engrossed and enraptured with the eternal.
And because we know that at the proper time there will be an assured harvest.
Therefore, we do not lose heart!
---
This article was written by J. Oswald Sanders, a New Zealander, author of several books, and a leader in missions, and was originally published in issue 10 of Discipleship Journal.