August 1, 2016
Come to the Family Table Recipe and Devotional
Come to the Family Table Recipe and Devotional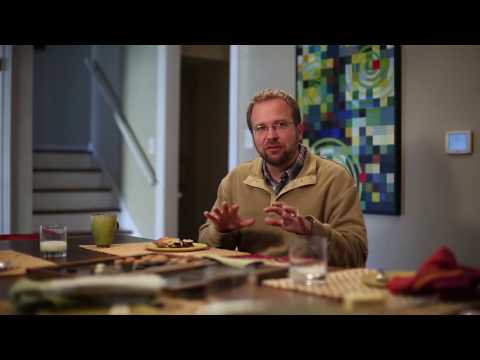 This excerpt was taken from Come to the Family Table by Ted and Amy Cunningham, pages 15-20. 
One-Pot Apple Cider Chicken Bake by Amy Cunningham
In my quest to find simple, healthy meals that my family and guests enjoy, this fall dinner choice has become one of our favorites. If you don't own a French oven yet, I highly recommend it! In my opinion, it is a gift to the home-cook and worth every penny invested. I have come to love this particular tool so dearly, I would probably grab it on the way out the door in a fire. The French oven cooks food and merges flavors in a way that can't be replicated without a lot more effort from other traditional cookware. I use a 12-inch round French oven that is three inches deep. Since the whole meal is prepared and served in one pot, Ted doesn't have to scrub lots of pots and pans at the end of the night!
Recipe serves 3–4.
Ingredients:
2 tablespoons canola oil 1 tablespoon butter
4–6 boneless, skinless chicken thighs
1 large yellow onion, chopped
1 cup apple cider, divided
1 large sweet potato, peeled and cut into 1-inch cubes
1 large apple, cut in 1-inch cubes
2 cups of kale leaves, chopped (discard stems if you wish)
salt and pepper to taste
Instructions:
Preheat oven to 350 degrees. Pour oil and butter in a French oven or large skillet that can also be placed in the oven. On stove top, heat oil and butter over medium heat. Season chicken thighs on both sides with salt and pepper and place in hot oil. Cook on both sides for about 2 minutes. Do not fully cook the chicken. Remove the chicken and set aside. Set the pan on medium heat. Add the onion and ½ cup of apple cider to the remaining oil. Cook until onion is nearly translucent. Add sweet potatoes and apples and stir often for 4–5 minutes. Add chopped kale and keep stirring for another minute. Place browned pieces of chicken back into the pot so they lie on the bottom of the pan, spreading out as much as possible. Pour the remaining apple cider over the chicken and vegetables. Place in the oven for about 30 minutes, or until chicken cooks through and sweet potatoes are fork tender.
The "Who Am I?" Game
Pick a famous person, but don't tell anyone who you
Become that
When it is your turn, give a brief bio (four to five sentences) on who you Don't give too much away.
Impersonate your chosen person through body posture, tone, accent, gestures, and
Everyone around the table can ask you
Have everyone reveal their guesses at the same 9

Devotional
My beloved is to me a cluster of henna blossoms from the vineyards of En Gedi.
Song of Songs 1:14
Hurry is one of the family's greatest enemies. It kills the soul and quality time together. We run too fast. We do too much. We like to max out our lives and squeeze out the margin to get the most out of life. But God wants us to enjoy a life in which time is not the enemy.
In Scripture, En Gedi was a lush desert oasis providing rest, rejuvenation, and relaxation to weary travelers—a place for them to slow down, to stop, to recover from the busy journey. Here are some practical ways to create a family table that refreshes and rejuvenates each member of the family at the end of a long, hard day:
Refreshing homes refuel us physically, mentally, and emotionally. Unplugging from the hustle and bustle of life gives our minds and bodies rest. Sitting down to eat and drink gives our bodies nourishment. When we are physically worn down, our moods are affected. A good meal restores the stomach and soul.
Refreshing homes create judgment-free zones. The world throws enough criticism at us—we don't need to be bombarded with it at home. Take time to listen and validate the feelings of your family rather than telling them how they're doing it wrong.
Refreshing homes have time for games and hobbies. Some parents say, "Family fun when the chores are done." Good idea. Every home needs the trash picked up, laundry sorted, meals prepared, lawn mowed, and homework completed. The sooner you get your work done, the sooner you can relax.
The Bible does not command us or encourage us to manage time. It calls us to redeem time, and we can do that by creating a slower home that is a place of refreshment and rest for all who enter. The most important question you must ask is, "What am I going to say no to?" The word no is the best way to protect your breathing room and guarantee time around the table. It keeps you going on more than just fumes.
Discuss
Is our load exceeding our limit?
How would you best describe your limit? Physical limit? Emotional limit? Mental? Relational?
What should we trim from our family calendar to create more margin in our lives and to make more time for the family table?
How do you best recharge and refuel at home?
If you could change one thing about our home to make it more refreshing, what would it be?

Prayer
Father, slow us down. We run too fast and squeeze You out of our lives. This is not our intention. We just allow it to happen. For this, we confess our busyness, speed, and hurried spirits to You. We do not want to rush from one thing to another and miss life altogether. Help us say no more often so we can say yes to the most important people around our table and find rest and refreshment together. Help us to not take ourselves so seriously.
May our home and table all be a safe place where we create space for family and friends. We want to create space for You to work in our family. You are an invited guest at our family table. In Jesus' name, amen.
Check out these RECIPE CARDS for even more family-friendly meals!