March 26, 2020
The Message of Psalms
The Message of Psalms
SCOTT STARBUCK, Ph.D.
Religious Studies, Gonzaga University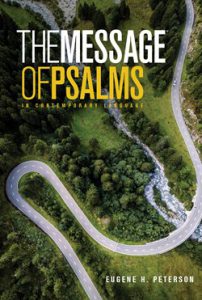 Honest. Fearless. Prayer.
Stop tiptoeing around in fear of offending God. With him, there are no secrets. Animate your prayers with the depth and honesty of your whole heart—from joy and awe to shame, fear, and even inconsolable rage.
The Message of Psalms will show you how. Eugene Peterson's fresh rendering of this ancient book of prayers reveals how, like a child with a parent, people have always come to God—and God invites you to do the same.
"There's a translation of the Scripture that Eugene Peterson has undertaken. It has been a great strength to me. He's a poet and a scholar, and he's brought the text back to the tone in which the books were written." – BONO, LEAD SINGER OF U2
Read The Message of Psalms here.